Report: Shonda Rhimes Warns Staff to Keep It Cute
The TV boss sends email to her crew to stop talking to tabloids.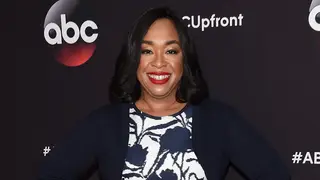 We would never want to get on Shonda Rhimes' bad side, so it's a good thing we're nowhere near the Shondaland production offices this week. The television mogul reportedly sent a "stern email" to the cast and crew of Grey's Anatomy after someone leaked to the tabloids that exiting star Patrick Dempsey had been having an affair with a show staffer.

"Shonda was very unhappy to learn Patrick's affair with a Grey's Anatomy staff member had been made public," an insider tells RadarOnline.com. "Suspecting it was individuals from the cast and crew, she sent a stern reminder via email that anyone caught leaking information to the press would be fired immediately. The cast and crew all have signed non-disclosure agreements, prohibiting any details from their employment being discussed publicly."
RUNNING THE SHOW: TOP TEN MOST POWERFUL WOMEN IN TV
Adds the source, "Even though Patrick and Shonda are obviously not on the best terms, she doesn't want to see his name dragged through the mud." 
As RadarOnline.com reported, Dempsey was suddenly fired from Grey's Anatomy in April, just a few months after his wife of 15 years, Jillian Fink, filed for divorce. Soon after, it was revealed that he had been having an affair with a young staffer from the show. "It was obvious to everyone Patrick was [sleeping with] her," the insider leaked to Radar. "It got very messy and emotional on set and became a huge liability."
Meanwhile, "Grey's Anatomy is on hiatus and so it was very alarming for the crew to get this email from Shonda," the source added. "No one wants to jeopardize their jobs, and everyone just wants the Dempsey drama to end."
Looks like Shondaland employees have another stern email coming their way. We doubt Ms. Rhimes will take kindly to someone leaking her disciplinary action over a leaked email to the press.
Nonetheless, the queen must defend her empire.  In case anyone needs reminding, watch our exclusive video below to see how hard Shonda has worked over the years to be the force in television she is today:
BET.com is your #1 source for Black celebrity news, photos, exclusive videos and all the latest in the world of hip hop and R&B music.
Click here to subscribe to our newsletter.
(Photo: Jamie McCarthy/Getty Images)