Rapper Lil B Releases Vegan Emojis
The free mobile app shares how cool it is to be kind to animals.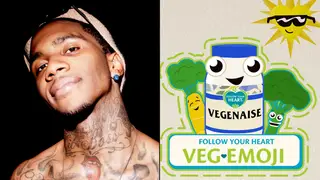 Looks like vegans are getting loads of love this week. First came the announcement that Beyoncé was launching a vegan meal home delivery service and now they'll be able to share their joy over mobile devices with a new set of emojis. Rapper Brandon "Lil B" McCartney has teamed up with Follow Your Heart to release vegEMOJI, a collection of fun icons and messages that tout one's love for greens and healthy eating. Now you can urge your buddies to put down the cheeseburger and "eat ur veggies" with a cute emoji of a happy broccoli holding hands with a carrot.
SEE PHOTOS OF VEGAN CELEBRITIES

While Lil B doesn't follow a vegan diet himself, he admires the message Follow Your Heart, which are the creators behind mayonnaise alternative Vegenaise, and is involved with the coding and design of the emojis.
"I don't normally like to align myself with companies, but I really support what they are doing," he said to the Daily Dot. "I only want to do things that help people."
The free app can be downloaded through iTunes and an Android version is in the works.
BET.com always gives you the latest fashion and beauty trends, tips and news. We are committed to bringing you the best of Black lifestyle and celebrity culture. 
Click here to subscribe to our newsletter.
(Photos from left: PYMCA/UIG via Getty Images, vegEMOJI)