Was Blac Chyna's Father the Original #PrisonBae?
The Internet is talking.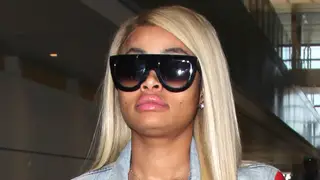 #PrisonBae has become one of the newest hashtags to dominate the Internet. From Jeremy Meeks to most recently Sarah Seawright, folks have been finding pleasure in looking at these criminals' mugshots, but who knew Blac Chyna's pops might have been the one to start it all?
According to the Daily Mail, the mom-to-be's father, Eric Holland, is quite the experienced ex-con, with almost 30 offenses and more than a dozen convictions under his belt. Despite his pretty active past, members of social media seem to think he's paid his debt and needs to be crowned the OG #PrisonBae, judging by his mughsot.
This all started when the publication posted the 49-year-old's mugshot along with a story highlighting his several busts for assault, battery, theft, break-ins and other crimes.
While some folks were left wondering why the news of his past is even relevant today, others are simply blinded by his good looks. Needless to say, he's now a free man and is looking forward to seeing his daughter walk down the aisle and deliver his grandchild.
Speaking of Blac Chyna, watch her get a lap dance from Mariah Carey with BET Breaks, above.