Too Far? Eva Marcille's Ex and Her Brother Hit Disgustingly Below the Belt
You won't believe what Kevin McCall said on Instagram.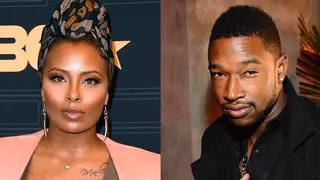 Eva Marcille's split from Kevin McCall has been a nasty one from the beginning, but things went to a whole new level of ugly when the America's Next Top Model winner's brother Andre jumped into the mix.

It all started when McCall left a sweet message under a pic of Eva and their daughter on Mother's Day. "#blackgirlsrock," he commented on the cute photo of mom and daughter giving each other kisses by the pool.
Sounds like things are better between Eva and her ex, but clearly her brother Andre still feels some kind of way about McCall. He hopped into the comments and left a message for McCall: "Lol, this is as close as you are going to get to @evamarcille and @marleyraemccall14. F**king loser."
Well, McCall didn't take too kindly to this threat, and clapped back with a disgusting accusation that would have been better kept off of social media. "Aren't you her older brother who molested her when she was a child," he wrote in response. "I want my fade h**. Imma beat the pedophile outta you coward! That's all. Lol."
But he didn't stop there. McCall continued, "I'll never understand pedophiles and the way they operate. This man left me the same disgusting hate text 1000 times in a row as I was having bible study with friends…I showed them the text they said who has that much time…? I said who has that much data?!" He went on, "Like my mentor Dick Gregory says #thisiswhatthisisAbout cut all this bulls**t out catch the fade…it's all done."
Wow. Hopefully these two find a way to sort out their family issues in private or with the help of professionals. 
Watch Eva in a clip from BET's All About the Business above.
BET.com is your No. 1 source for Black celebrity news, photos, exclusive videos and all the latest in the world of hip hop and R&B music.