Pepa's Daughter Auditioned To Play Her In Salt-N-Pepa Biopic But Got Rejected For A Surprising Reason
Egypt Criss, who's father is Naughty By Nature's Treach, didn't make the cut.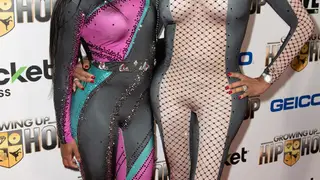 You'd think Pepa's daughter, Egypt Criss, would be a shoe-in to play her mother in the upcoming Salt-N-Pepa Lifetime biopic, but apparently that's not the case.
Mother and daughter recently appeared on The Real and explained how they prepared for the audition for the role of Pepa in the limited series.
"Egypt did audition for the role to play me and... let me tell you the funny thing," Pepa, whose legal name is Sandra Denton, explained. "When I was prepping her to play me, I was like practicing with her, 'This is what I did then. This is how it happened.' Because it was my story.
"When she went for the audition — because you know I'm going to let her do the whole process — she came back out like, 'Mom, everything you taught me was wrong,'" she continued.
"It was the opposite," Egypt confirmed. "She was like, 'Oh, but it's me though?' I was like, 'They didn't want it like that,' it was the opposite. I was like 'Oh, so never mind.'"
Egypt, who is also the daughter of Naughty By Nature's Treach, ended up landing a role in the limited series, just not depicting her mother.
The Mario Van Peebles-directed Lifetime biopic will star G.G. Townson as Cheryl "Salt" James and Laila Odom as Sandra "Pepa" Denton in the film with a script authored by Abdul Williams, who also wrote The New Edition Story, which premiered on BET in 2017. 
According to Variety, James and Denton will be serving as executive producers and the project will be released at some point in 2020.
Also during the interview, Pepa addressed the legal fallout between Salt N Pepa and the group's DJ Deidra "Spinderella" Roper.
In May, Spinderella claimed she was fired from the group and sued them for royalties. Pepa says that when the group was originally formed it was just her and Cheryl James; so any contracts they signed referred to just them. Spinderella, on the other hand, had her own contractual agreements, according to Pepa.
"A lot of time they ask for Salt-N-Pepa to talk, or be here, and they don't have Spinderella. It's out of our hands, and she always blames us, and thinks that [we should] fight [for her]," Pepa claimed. "We do fight. But sometimes they just want the Salt-N-Pepa. And it's hard. She wants to say, 'No, don't do this.' And I'm like, 'I'm doing this.'"