The Secret!: Alicia Keys And Swizz Beatz Reveal The Love Language That Keeps Their 11-Year Marriage Strong
The lovebirds recently chatted about their union during a conversation with Marie Claire.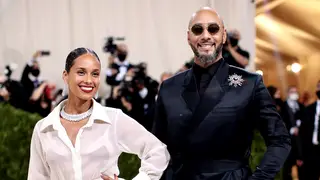 Alicia Keys and her husband Swizz Beatz have a love language that is thoughtful, considerate, and stewed in friendship. The duo recently chatted about their union during a conversation with Marie Claire. Below, learn how the music power couple stays united.
Styled in an extra-long Giorgio Armani coat on the cover of Marie Claire, Alicia Keys looks like a real-life superhero—which happens to be the nickname her husband uses to describe her.
"I admire her for her superwoman, super-mother strength," the music producer expressed about the adoration he has for his wife's dedication to family time. He also adores her way of communicating. "We have this method my wife came up with, where I speak or she speaks, and then we repeat what each other said so it's understood. We haven't ever raised our voice to each other."
Married for 11 years, that's quite impressive. According to Keys, their smooth relationship stems from their overall friendship.
"We're best friends," the mother-of-two explains. "We laugh all the time. And we both do music, so we understand each other and our lifestyles."
In post pandemic life, Keys is ready to showcase new music and plans to drop her eighth studio album, "Keys" on December 10. She recently performed several of her hit songs and the lead single, "Best of Me" from her new album at the Mercedes-Benz Manhattan dealership in New York City. As the newest brand ambassador, Keys helped to introduce the luxury brand's first line of electric cars, Mercedes-EQ.
Despite their incredibly busy schedules, the lovebirds try not to go more than two weeks without spending quality time with each other. To do so, the couple sleeps in at times to rebuild their bond. "It's about time for one of those days," she revealed to the magazine.
We love to see Black love! We are even more enlightened when a couple we admire shares details about their relationships. What do you think about building a love language on friendship and understanding? Share your thoughts with us. 
FYI: Alicia Keys And Swizz Beatz tied the knot in July 2010 at their private home on the Mediterranean Sea.