Reginae Carter's Cry For Security Shows She May Be Done With Rapper YFN Lucci
The rapper's reaction is pretty telling.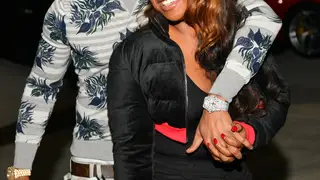 There seems to be trouble in paradise between on-again off-again couple Reginae Carter and YFN Lucci. The rapper recently took to Twitter to air out their dirty laundry.
The couple's relationship may be on the brink of ending as he posted a tweet referring to his girlfriend, Carter, as "this girl" before explaining her concerns about not feeling safe around him.
"This girl said I don't make her feel safe," he wrote, followed by four crying laughing emojis.
His reaction to her cry for security, however, is what likely set things off between them as he added, "U should leave me then because your life is wayyyyy more important than this relationship."
Take a look at the tweet, below:
Lil Wayne and Toya Wright's daughter took to Twitter, shortly after, to share a few elusive tweets that seem to address her man's words.
"Eliminate what doesn't help you evolve," she wrote in one tweet, before adding in another, "Today I have no clap backs... you're simply getting blocked #imtired."
While this is not the first social media spat the two have shared, fans still don't know how these two will end up.