Grand Rapids Police Release Video Of Patrick Lyoya Being Fatally Shot By Cop
The Kent County Prosecutor's Office's asked not to make the footage public.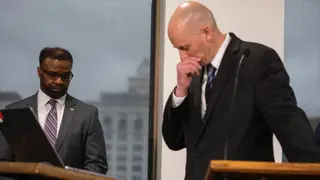 The Grand Rapids Police Department has released video footage of the fatal officer-involved shooting of 26-year-old Patrick Lyoya that took place last week.
According to WZZM, the incident happened on April 4 just after 8 a.m. near the intersection of Griggs Street and Nelson Ave SE in the Michigan city. Authorities say a GRPD officer initiated a traffic stop on a vehicle with a faulty license plate. Lyoya, who was driving the vehicle, fled from police on foot after being confronted by police.
A physical struggle then ensued with the officer, who subsequently shot and killed Lyoya. GRPD Chief Eric Winstrom confirmed that the officer's body camera was found at the scene, however it's unclear how it came off of him.
Lyoya's family is disputing claims that Lyoya initiated any sort of struggle. They say his car had broken down in the street and stepped out of the car to see what the problem was when the cop arrived, before that officer got ahold of him and put him on the ground and shot him in the back of the head.
The officer who engaged Lyoya has not been identified by the GRPD, but the department claims he's been placed on administrative leave pending an investigation.
WZZM reports that Lyoya was a 26-year-old Congolese refugee whose family fled the Democratic Republic of the Congo to the United States fearing violence. He was also a father to two daughters and an avid soccer fan.
"I didn't believe that this could ever happen to me in this country," his father Peter Lyoya told the news station. He says his family came to the United States for a safer life. "And I'm asking myself, 'why did I come here?'"
Police released body-worn camera, in-car video, a neighbor's doorbell video and cellphone video of the incident. It can all be viewed here, though viewer discretion is advised.