Carmelo Anthony's Son, Kiyan Anthony, Receives Syracuse Offer
Kiyan Anthony receives offer from Syracuse where his dad, NBA superstar Carmelo Anthony, led the team to a 2003 national championship.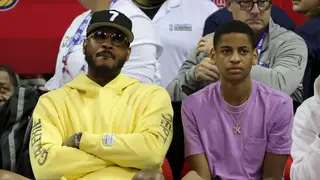 Kiyan Anthony, son of former NBA superstar Carmelo Anthony and media personality LaLa, has received offers from Memphis, George Mason, Bryant, and Manhattan, but it's his offer from Syracuse -- the same school his father, Carmelo Anthony, played at that the four-star recruit Kiyan tweeted was a blessing.
According to 247 Sports, Christ the King player Kiyan Anthony is ranked No. 62 nationally in the class of 2025. And at 6-foot-3, he is ranked as the number 3 player in New York and ranked as the 14th shooting guard in the country.
Carmelo Anthony, who led Syracuse to a championship in the 2003 NCAA tournament, according to Yahoo News, is not the only NBA star whose son is following in his footsteps. LeBron James and Dwyane Wade, who were the top five picks during the 2003 NBA Draft, both have sons with basketball prospects.
According to CBS Sports, Bronny James has offers from USC, Duke and Kansas. At 6-foot-6 Bryce James, received his first Division I offer from Duquesne. And during the 2021-22 season, Zaire Wade played with the Salt Lake City Stars in the G League.
Following Kiyan's celebration on Twitter with the hashtag #GoOrange. His mother, Lala, also celebrated on social media with an Instagram post: "Proudest mom on the planet!" wrote LaLa. "You are my son, my best friend, & my hero @kiyananthony ... keep GOD first and the rest will follow."