Watch: Shaq, Charles Barkley and Kenny Smith Share Stories Remembering Craig Sager
Here's some of the many ways the beloved NBA courtside reporter impacted them.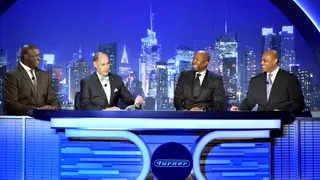 Besides his immediate family, the beloved NBA courtside reporter's passing after a lengthy battle with cancer really hit his NBA on TNT crew family hard. After all, they spent more time with him than most throughout the years.
So, on the extremely somber Thursday night, Shaquille O'Neal, Charles Barkley and Kenny Smith took turns sharing stories remembering their favorite colleague. They were joined on the set by fellow former NBA stars turned Turner staff in Chris Webber and Kevin Garnett, who also told stories remembering Sager.
Smith explained how Sager put sideline reporting on the map, saying he did for the profession what "Dennis Rodman did for rebounding," while Shaq compared Craig's rapport with NBA superstars to Muhammad Ali's colorful relationship with Howard Cosell. In between, Webber mentioned how Sager had built a bond with his dad.
Sir Charles said he felt like he "lost a brother today," while adding that there's "no person that I've ever met in my life that wanted to live more" than Sager did, with the veteran courtside reporter fighting and defeating his cancer twice before the disease was finally too much to overcome.
Garnett and Webber also had a feature catered to Sager's legacy on KG's Thursday night Area 21 segment.
Remember, Garnett had one of the more infamous interactions with Sager, once telling him on live television to burn his pink suit. Sager would have such hilarious interactions with many NBA superstars, although the rapport he built with San Antonio Spurs coach Gregg Popovich was arguably the best.
BET Sports News — Get the latest news and information about African-Americans in sports, including weekly recaps, celebrity news and photos of your favorite Black athletes.