Here's What Tupac Would Think of Donald Trump
Key players from "All Eyez on Me" weigh in.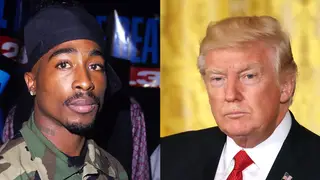 The new Tupac biopic, All Eyez on Me, is officially in theaters, and in honor of the occasion, BET spoke with a couple of the people who made the film possible.
In the film, the Cali rapper is portrayed as prophetic, which many, since his beginnings in hip-hop, have always called him as well. Noting that, it'd be pretty interesting to find out 'Pac's thoughts on today's rocky political climate, so we asked Demetrius Shipp Jr., the man who portrayed him in the movie, about what he thought Tupac would think of Donald Trump today.
"I would have to think we feel the same on this, and how I feel about it is, we need to question how somebody like Donald Trump to get into office," he said. "How we allow somebody with no political background to be able to run and actually win the election for president. I think we need to start there."
We also asked All Eyez on Me's director and producer the same question. Benny Boom, the film's director, says 'Pac and Trump's morals run highly contrary.
"I think just the hypocrisy of Donald Trump. 'Pac spoke truth. He was polarizing because of that," he said. "You don't want to hear truth all the time, so, Donald Trump doesn't always speak truths all the time. He's the president so we need him to be truthful and honest with us all the time. That's what the job requires. 'Pac would probably not look highly upon that — of course not. He's not for the people. 'Pac was for the people."
Producer LT Hutton believes Tupac would challenge the president publicly. "I see him challenging Trump more than anybody and that's what I most admire about Tupac is his courage to say what nobody else would say," he said.
Check out the full interview segment about Tupac's potential thoughts on Donald Trump below.