Janet Jackson Earns Personal Best with the Conclusion of 'Together Again Tour'
The Grammy Award-winning entertainer earned a sizable profit increase since her last tour over 20 years ago.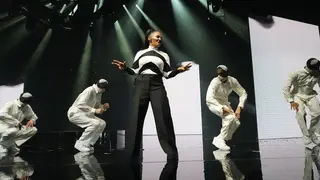 Grammy Award-winning singer and songwriter Janet Jackson just clocked in her personal best after wrapping up her Together Again Tour. The "Let's Wait a While" singer grossed a reported $50.9 million, topping her previous highest-earning tours nearly three decades ago.
According to Billboard Boxscore, the musical icon roughly saw an 8.54% increase in sales since the previous highest-earning tour, her 2001-2002's All For You Tour. During the recent 34-city event, the concert sold 479,000 tickets across North America in cities including Atlanta, Ga, Hollywood, Fl, Los Angeles, Ca, NYC, and Toronto, Ontario.
The 57-year-old entertainer outdid herself again after beating her Madison Square Garden record. Last May, the youngest Jackson singer sold 24,500 tickets, earning a career-high profit of $3.8 million—a bump from $3.2 million earned during the three-show run in 2001.
Jackson's Together Again Tour has included several memorable moments, including Busta Rhymes, who gave the legendary performer her flowers ahead of her recent birthday.
While reuniting on stage, the "Break Ya Neck" emcee and collaborator recalled nearly crashing his vehicle while driving after hearing the "All for You" singer mention his name during a radio interview with Angie Martinez.
The Brooklyn rapper tearfully told Jackson, "You finally made a dream come true for me, queen," when they worked on "What's It Gonna Be?!" together.
The BET Awards 2023 "Lifetime Achievement" honoree revealed that he "waited 25 years to be able to share this stage with you and perform this song. And I am so grateful that I'm fighting tears of joy right now. I just want you to know that I love you so much."