What She Says: 50 Greatest Women MCs
These ultimate lyricists will forever reign supreme.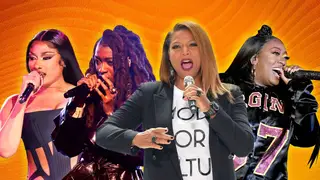 Women have been at the forefront of hip-hop since its inception in 1973. From the park jams to the cyphers, to the mainstream, to the big screen — the culture has grown exponentially through the efforts and innovations ushered in by ladies from every era.
Maybe that sentiment sounds evident in 2022, but there have been moments in rap history where the presence of women MCs felt few and far between, mainly because of the mass consolidation between media entities and the crippling effect file-sharing platforms had on recorded music sales, which forced the industry to adjust to disruptive technology and consumer behaviors. Still, the 2000s famously had a shortage of fresh, new female rappers rising to the top of the charts.
Established acts like Lil Kim, Foxy Brown, Missy Elliott, Trina, and Da Brat carried the flag into the new millennium in that decade. Outside of superstar acts from the 1990s, female MCs making their way through aughts essentially did so without total investment from the major labels.
Women rappers pushed through the murk and the muck, much like how the culture began. This was back when heads recorded DJ Kool Herc or Grand Wizard Theodore secondhand at those same park jams, dubbed the tapes, and passed them around the community. This was before the world took notice of the crafty revolution born out of the South Bronx. An era where the cameras and Cristal hadn't turned the movement into a menagerie. Women lyricists such as Jean Grae, Psalm One, and Diamond [from Crime Mob] — and so many others kept the XY perspective progressing in the 2000s despite the "Bling Era" raps of the day.
In the decade and change since Nicki Minaj ushered in a brand new women's rap renaissance, a new generation of incredible female MCs grabbed the mic. MCs like Cardi B, Rapsody, Megan Thee Stallion, Saweetie, Noname, Doja Cat, and others have etched their name into the talisman of hip-hop history—reminding the world that incredible women rappers can't be stopped.
As hip hop prepares to turn 50, we celebrate 35 women rappers who set the bar, raised the bar, and pushed the margins beyond the brink of the breach. These MCs have amassed great success through their music and inspired future generations through their off-wax endeavors.
Missy Elliott

If someone said Missy Elliott is the greatest rapper of all time, even if you disagreed, it's impossible not to understand. She's sold over 30 million records. All six of her albums have reached platinum status. 

She's collected six BET Awards, three BET hip hop Awards, four Grammy Awards, and has been immortalized with a star on the Hollywood Walk of Fame. Whether through rap beats or pop sensibilities, her penchant for releasing culture-moving visuals makes marginalizing the "Misdemeanor" MC impossible because her talents are so vast, imaginative, and wide-reaching.

Queen Latifah

If there's a checklist for rap superstardom, Queen Latifah helped define the criteria. From becoming the first solo female rap artist to receive a certified gold album (1993's Black Reign), to becoming the first hip hop artist ever nominated for an Oscar (for her role in Chicago), the Newark, New Jersey-native broke down barriers and notched critical acclaim in seemingly every field of art and entertainment. 

And while the world may celebrate her renaissance talents, perhaps her most important offering to hip hop was her Grammy-winning single, "U.N.I.T.Y.," which took a stand against violence, abuse, and the objectification of women. "Who you callin' a bitch?!"

Lauryn Hill

Lauryn Hill remains one of the most captivating talents in hip hop history. Blessed with angelic vocals, mesmerizing screen presence (which she flexed lovely in Sister Act II: Back In The Habit), and one of the most celebrated lyrical utility belt's rap has ever witnessed, the Newark, New Jersey MC could step into any arena with anyone, anywhere, and come away victorious. 

Her critically acclaimed solo debut album, The Miseducation of Lauryn Hill, collected eight Grammy awards, the most received by any female rap artist in history. But arguably, the impeccable skill set she displayed on 1996's The Score (as part of The Fugees) best represents her knack for stealing the show.

Nicki Minaj

It's challenging to think of the musical checkpoints Nicki Minaj has yet to check off. The super MC from Queens, New York, has notched two number-one albums (Pink Friday and Pink Friday: Roman Reloaded), three number-one songs ("Trollz" alongside 6ix9ine, "Say So Remix" with Doja Cat, and "Super Freaky Girl"), 12 BET Awards, over 100 songs charting on the Billboard Hot 100 (the first female rapper to do so), and one diamond album (Pink Friday). 

But it's her influence that remains most impressive. Minaj essentially held down a decade as the premier woman MC in hip hop, inspiring a generation after her to push their pen.

Cardi B

From her stint on VH1's Love & Hip Hop New York to her record-shattering music career, Cardi B is unquestionably one of the culture's most influential voices. 

In 2018, she pulled off an almost unseen feat in hip hop, winning Best Rap Album at the Grammys for her debut Invasion Of Privacy, making her the only solo female artist to take home the coveted gramophone. 

Whether through raucous number ones like "Bodak Yellow," sex-positive anthems like "WAP," or thoughtful odes like "Be Careful," Cardi B's catalog champions and inspired a legion of Cardi B spin-offs that highlight her impact in hip hop.

Rapsody

All things considered, Rapsody has put together an awe-inspiring three-album run. Starting with 2012's The Idea Of Beautiful, followed by Laila's Wisdom in 2017 (which received Grammy nominations for Best Rap Album and Best Rap Song for "Sassy"), and culminating with 2019's stellar release, Eve—the North Carolina MC has amassed a body of work that's revered for its dextrous wordplay and conceptual brilliance. 

Couple that with stand-out features on Kendrick Lamar's To Pimp A Butterfly ("Complexion") and Black Thought's Streams Of Thought Vol. 1 ("Dostoyevsky"), and Rapsody's pen stands shoulder-to-shoulder with the greatest of any era.

Lil Kim

Regardless of gender, Lil Kim is best known as one of hip hop's most influential figures. The Queen Bee of Rap has sold over 15 million albums worldwide, along with scores of genre-pushing moments like her empowering collaboration "Not Tonight (Remix)" featuring Angie Martinez, Da Brat, Missy Elliott, and the late, great Lisa "Left Eye" Lopez. 

Or the multi-colored wigs she popularized in her video for "Crush On You." Her debut release Hard Core was certified double platinum and remains a pioneering moment in hip hop history for opening the door for women in rap to exercise their agency.

Foxy Brown

Foxy Brown's effortless blend of rugged sophistication and elegant wordplay made her one of hip hop's most gripping lyricists. Her debut album Ill Na Na was certified platinum, moving over 7 million units. 

She followed that success by forming a supergroup with Nas, AZ, and Nature (The Firm) in 1997, then released her sophomore album Chyna Doll in 1999. Chyna Doll debuted at number one on the Billboard charts, making Foxy the second female rapper (behind Lauryn Hill) to achieve that feat. 

From her innate flair for the stylish to her song-stealing verses, Foxy Brown defined late 1990s female rap success that still resonates today.

MC Lyte

MC Lyte's 1988 debut album is one of hip hop's most important releases. Not only because of the critical acclaim received through visceral tracks like "I Cram To Understand U (Sam)," which tackled the debilitating effects of drug addiction in the Black community. 

But because it is credited as the first solo album by a woman MC. But Lyte's influence supersedes her celebrated catalog. She's also vigilant about giving back to the culture off-wax. She served as the President of the Los Angeles Chapter of the Recording Academy, and her charity, Hip Hop Sisters, is focused on promoting positive images of women of color. 

Her musical and philanthropic dedication to the culture earned her the "I Am Hip Hop" lifetime achievement award at the 2013 BET Awards.

Trina

It's safe to say Trina's moniker is apropos. The "Queen of Miami" has been "da baddest" since her show-stealing performance alongside Trick Daddy on their 1998 hit record, "Nann." 

Each of Trina's six albums flexes sex-positive lyrics, an infectious flow, and effortless sensuality that continues to inspire today's generation of women MCs. Away from the music, Trina has also been a mainstay on Love & Hip Hop Miami, representing the 305 in multiple mediums. 

In 2022, she was honored with BET's coveted "I Am Hip Hop" lifetime achievement award for her game-changing contributions to the culture.

Eve

Eve built quite an empire since entering the hip hop landscape. Her debut album, Let There Be Eve… Ruff Ryder's First Lady, debuted at number one, making her the third female rapper to top the Billboard 200. 

Her collaboration with Gwen Stefani, "Let Me Blow Your Mind," is a certified rap classic and netted her a Grammy Award for Best Rap/Sung Collaboration. She also starred in movies XXX, Barbershop, Barbershop 2: Back In Business, and Barbershop 3: The Next Cut, her own self-titled sitcom, Eve, as well as running her own clothing line called Fetish. 

Eve was a lyrical pit bull in a miniskirt who was a great example of how women MCs could be both elegant and ferocious on the microphone. From rapping to acting to fashion, Eve completed the trifecta.

Megan Thee Stallion

The Megan Thee Stallion era is officially upon us. Since she arrived in 2018, the Houston, Texas MC has skyrocketed through viral moments and chart-topping records. 

Her single "Savage" (featuring Beyoncé) landed at number one on the Billboard Hot 100, as well as "WAP," her collaboration with Cardi B. She's the second female rapper to win Best New Artist at the Grammys (behind Lauryn Hill). She has collected six BET Awards and five BET Hip Hop Awards. She was named Time Magazine's 100 Most Influential People in the World of 2020 through her website BAD B*****S HAVE BAD DAYS TOO, a hub offering resources for mental health assistance. 

Megan is a force to be revered, inspiring a new generation of women MCs to prioritize their personal agency and emotional well-being.

Sha-Rock

Affectionately known as the "Mother of the Mic," MC Sha-Rock broke several barriers for female rappers. As a member of the group pioneering group Funky 4 Plus 1, the then 17-year-old from the South Bronx became the first female MC to appear on wax. 

The group's two biggest hits, "Rapping And Rocking The House" and "That's The Joint," spread across the culture at that time, leading to another hip hop breakthrough. In 1981, The Funky 4 Plus 1 became the first rap group to perform on television, making their appearance on Saturday Night Live. 

Women have always been at the forefront of the culture, and MC Sha-Rock helped raise the bar for everyone.

Roxanne Shante

Roxanne Shante's legendary diss track has one of the most improbable backstories in hip hop history. 

The Juice Crew member responded to U.T.F.O.'s hit record "Roxanne Roxanne" by freestyling a rebuttal from the perspective of the girl who wouldn't give U.T.F.O. the time of day. The diss track was called "Roxanne's Revenge" and made the then 14-year-old Roxanne Shante one of hip hop's first female rap stars. 

The funny thing about all of this is that Shante recorded "Roxanne's Revenge" while on the way to do laundry for her mom. Just a regular day in a teenager's life turned improbable rap superstar.

Lisa "Left Eye" Lopes

Lisa "Left Eye" Lopes is best known as the rapping member of the multi-platinum selling group, TLC, which crafted four number one songs ("Creep," "Waterfalls," "No Scrubs," and "Unpretty") four platinum albums (Ooooooohhh…On The TLC Tip, CrazySexyCool, FanMail, and 3D) and one diamond record (CrazySexyCool). 

TLC sold over 65 million records worldwide, making them one of the most successful girl groups in history, and Left Eye was the creative titan behind their success. She's received more writing credits than any other member and is credited with the group's creative direction. 

Left Eye tragically passed away in 2002 during a car accident in Honduras while shooting a documentary about charity work. Still, she continues to live on with artists such as Jhené Aiko, Kehlani, and others. 

May her legacy live on forever.

Salt-N-Pepa

Salt-N-Pepa blazed a trail for future female MCs through sexy anthems and socially conscious sensibilities. Tracks like "Push It," "Shoop," and "Whatta Man," (featuring EnVogue) bask in women's empowerment while "Let's Talk About Sex" delves into the consequences of unprotected intercourse. 

Their debut album, Hot, Cool & Vicious, went platinum, while their fourth studio album, Very Necessary, sold over five million copies, the highest-selling album by a female rap act at that point in time. In 2022, they were honored with a star on the Hollywood Walk of Fame, an accolade well deserved.

Da Brat

Da Brat made history in 1992 when her debut album, Funkdafied, reached platinum certification, making her the first female solo rap artist to accomplish that feat. 

Her third album, Unrestricted, went platinum, as well, but arguably it's her fiery verses, rapid-fire flow, and song-snatching guest appearances ("Sock It 2 Me" with Missy Elliott, and "Loverboy Remix" with Mariah Carey, Ludacris, Shawnna, Twenty II, and Cameo) that cemented Da Brat as a lyrical force which cannot be ignored.

Remy Ma

Remy Ma's pen is lethal. Just ask Lady Luck. Remy squared off against Lady Luck in a now legendary Fight Klub battle, and "Shether" had every woman MC, including Nicki Minaj, running for their pen and pad. 

It's that gritty, bar-heavy style that makes Remy so great. Her debut album, There's Something About Remy, showcased her cypher-ready rhymes lovely, along with hit songs "Lean Back" (with Fat Joe) and "All The Way Up" (with Fat Joe, French Montana, and Infrared). 

Remy Ma reached pop culture status with her stint on Love & Hip Hop New York alongside her husband, and fellow Tri-State lyrical terror, Papoose.

Rah Digga

There's an incredible moment on The Fugees' 1996 classic The Score. On the song "Cowboys" (featuring Wyclef Jean, Pras, Pacewon, John Forte, and Young Zee), Rah Digga and Lauryn Hill trade bars back and forth, gloriously dominating the track. 

Digga would keep the same energy as part of Busta Rhymes' Flipmode Squad and on her solo albums Dirty Harriet and Classic, decimating tracks each time she grabbed the mic. She also starred in the 2001 horror film Thirteen Ghosts, MTV's Carmen: A Hip Hopera, and appeared on the 30th anniversary of Michael Jackson's "Heal The World." 

Brick City's finest shines in all arenas.

Yo-Yo

Yo-Yo's 1991 breakthrough record "Can't Play With My Yo-Yo" shines through the Compton, California MCs flirtatious energy yet women empowerment. 

Lines like "Check the booty, yo / It's kinda soft and / If you touch it you leaving in a coffin," embraced her sex appeal yet commanded respect simultaneously. It's that juxtaposition that permeated throughout her stellar debut album, Make Way For The Motherload, as well as her subsequent offerings (Black Pearl in 1992 and 1993's You Better Ask Somebody). 

She also made appearances in several celebrated films, including Boyz In The Hood, Sister Act 2: Back In The Habit, Panther, and Menace II Society. Yo-Yo is a testament to female MCs commanding respect on and off the mic.

Azealia Banks

Azealia Banks has proven to be one of the unique artists to arrive in the 2010s. Her debut single, "212," caught the industry off-guard, flaunting her nimble, double-time flow and progressive use of the c-word, which she embraces as an expression of empowerment. 

Her 2014 debut album, Broke With Expensive Tastes, solidified her as one of the culture's most dynamic artists, showcasing styles and sounds across the vast musical divide.

Jean Grae

For the better part of the aughts, Jean Grae reigned as the queen of hip hop's underground. 

Stellar releases This Week and Jeanius (produced by 9th Wonder) captivated fans through her didactic wordplay, bottomless depth, and vicious paragraphs. 

There was a noticeable void of new female MCs during the 2000s, and, in that sense, Jean Grae carried the torch through the tunnel toward the women-led rap renaissance that would take shape in the 2010s.

Mia X

The first lady of No Limit Records brought undeniable gravitas to every track she touched. Her second album, Unladly Like, peaked at number 21 on the Billboard 200, and her third album, Mama Drama, was certified gold, peaking at number 11. 

Mia X was a mainstay in No Limit Film releases such as I'm Bout It, MP The Last Don, and I Got The Hook Up, where she flexed her acting chops alongside her high-octane rhymes.

Little Simz

Little Simz has captured just about every major hip hop award offered in the United Kingdom, including Best Album at the NME Awards as well as the Mercury Prize. 

The London-born MC has garnered critical acclaim through her seamless blend of rap, grime, reggae, and synth rocky mashups that yield a one-of-a-kind. Her 2021 release, Sometimes I Might Be An Introvert (which peaked at number four on the UK charts) was heralded by music media as one of that year's best. 

Coupled with her co-starring role as Shelley in the UK's smash TV show, Top Boy, and her astute business sense, which has garnered her several sync licensing successes and the business of Little Simz is tight on and off the mic.

Sa-Roc

Only the second woman signed to Rhymesayers, Sa-Roc's prolificness, impeccable skill set, and mind-opening lyricism has garnered the Washington D.C.-MC critical claim throughout the 2010s. 

Her 2020 release, Sharecropper's Daughter, brims with a soulful, socially conscious aesthetic laced with poignant commentary on all the world's ills. She's a leader on and off wax, serving as a spokesperson for Hip Hop Is Green, whose mission is to use the culture to advocate for a plant-based lifestyle.

Doja Cat

Doja Cat's breakthrough came through an improbable viral moment when her gimmicky 2018 track "Mooo!" became an internet meme, notching over 550 million views. 

But lurking behind this happy accident was a creative genius prepared to capitalize on the success. Her second and third albums (Hot Pink and Planet Her) are both certified platinum, and her track "Say So" (featuring Nicki Minaj) topped the Billboard Hot 100. 

With over 34 million records sold since 2018, Doja Cat turned a novelty moment into a stratospheric career in music while never letting her superstardom supersede her passion for hip hop culture.

Latto

In 2016, Latto won Jermaine Dupri's reality television competition show, The Rap Game, where contestants vied for a record deal with the legendary producer. But in an unexpected turn of events, she declined the offer and ventured out on her own. 

Her first bout with controversy came when her original stage name, "Miss Mulatto," was highly criticized for its polarizing racial connotations. Since changing her name to simply Latto, her stock has gone vertical through critical and commercially successful singles "B***h From Da Souf" (featuring Trina and Saweetie) and "Muwop" (featuring Gucci Mane), both of which were certified Platinum. 

She followed that up with "Big Energy" from her 2022 sophomore release, 777, which peaked at number three on the Billboard Hot 100. She became the first woman since Nicki Minaj to receive Best New Artist at the 2022 BET Awards.

Rico Nasty

Rico Nasty's "Slap A B***h" is one of those songs that sounds both classic and timeless at the sametime. The track would become Nasty's first breakthrough single, notching over 45 million views on YouTube, and certified gold by the RIAA. 

That aggressive, mush-you-in-your-mouth energy has become synonymous with the Palmer Park, Maryland, MC. Her 2020 debut album, Nightmare Vacation, is championed for its diverse soundscapes, boasting rap, trap, and punk sensibilities. And in that sense, Ms. Nasty challenges the perception that modern female rappers are required to flaunt their sex appeal in order to garner mainstream love. 

She sets the bar by repudiating common wisdom on the female MC's path to success. Nobody puts Rico Nasty in a corner.

Noname

Noname is a poetic wunderkind fresh out of the city of Chicago. Rising through the ranks as Chance The Rapper and Vic Mensa, the rap impresario's celebrated works Telefone (2016) and Room 25 (2018) both received critical acclaim for her delicate yet truthful, spoken-word approach. 

In 2019, she created the Noname Book Club to share important works of literature while simultaneously attacking corporations privatizing the way information is shared. In every sense, Noname's work prioritizes Black and brown people, and her words immediately spark action.

City Girls

It's fair to say that City Girls have reached cultural icon status for Gen-Z and young Millennials. Their 2019 smash "Act Up" represented all the independent women looking to escape from the 9-to-5 treadmill lifestyle. 

Their rise from Miami and through the music industry inspired the Issa Rae-produced HBO series Rap Sh!t, taking the City Girls' origin story straight to Hollywood. And Yung Miami's podcast, Caresha Please, won Best hip hop Platform award at the 2022 BET Awards. 

While the City Girls' empire is officially under construction, they've already proven to be leagues beyond some of the culture's most treasured rap duos.

Saweetie

Saweetie's global takeover is currently underway. She's notched three top 40 hit songs ("My Type," "Tap In," and "Best Friend" featuring Doja Cat), was nominated for Best New Artist at the 2021 Grammys, hosted the Netflix show Sex: Unzipped, and starred in the "Challenge Accepted" campaign for MAC Cosmetics — all before the release of her debut album. 

It makes sense that she took home the BET Hip Hop Award for Hustler Of The Year in 2021. Saweetie's culinary adventures on social media and girl-next-door relatability make the Icy Girl one of rap's more approachable superstars. 

Saweetie can't stop, won't stop.

CHIKA

CHIKA makes powerful music that tackles life's inequities. She lamented Alabama's abortion bill on "Richey v. Alabama" and was invited to perform the song on Jimmy Kimmel Live! 

Her 2018 freestyle criticizing Kanye West for his support of Donald Trump went viral for her scathing truth bombs and powerful flow. More than just a wordsmith, CHIKA is also made waves in the fashion community. 

In 2019, she graced the cover of Teen Vogue's December issue and was featured in a Calvin Klein campaign. CHIKA sets the bar for MCs who rap about more than money, munches, and Maison-Margiela.

Flo Milli

Flo Milli's bewitching style stands in a cypher all its own. Often cheery, always poignant, her unique octave and visual imagination beguile as soon as the first beat drops. 

Dreezy

Some artists can sing. Some artists can rap. Few can do both compellingly. Dreezy is part of the thinnest slices of artists who's mastered multiple crafts. 

Her 2016 hit "Body" (featuring Jeremih) is a great example of that trait. The track, while certified platinum, perfectly captures the energy of the mid-2010s. The same can be said for her gold-certified single, "Close To You" (featuring T-Pain), and her standout verse on fellow Chicagoan Common's "No Good." Dreezy switches lanes like an F-1 driver, setting her apart from the rest of the pack.

Tierra Whack

The Tierra Whack experience feels like venturing into a fun house full of flyness. Her 2018 debut album, Whack World, is a vanguard exhibition in minimalism featuring a series of minute-long vignettes all presented together within one 15-minute stunning visual. 

The concept captured attention because it embraced the "less is more" theory, eschewing anything that did not completely add to form or function. 2021's "Stand Up" is another magnificent foray into the fanciful that hinted at more greatness to come. 

Whack's imagination falls from the Missy Elliott tree of genre-pushing presentation and off-kilter lyrical approach, opening minds through one cinematic rhyme at a time, inspiring a new generation to raise the bar by thinking completely outside the box.

GloRilla

When GloRilla took home the "Best Breakthrough Hip Hop Artist" trophy at the 2022 BET Hip Hop Awards, it felt like the coronation of rap's newest All-American Girl. The Memphis, Tennessee hit-maker has captured the heart of the culture through her anthemic ode to independence ("F.N.F (Let's Go)"), and her penchant for serving potent shots of relatability in her rhymes. "Ain't fucked up bout no credit score, I might be rich tomorrow," from her Cardi B assisted "Tomorrow 2" is the type of bar that connects across boundaries, defining the perspective of the modern American, for example, and is just one example of many that keep her debut EP, Anyways, Life's Great… in heavy rotation.

Ice Spice

Ice Spice has covered a lot of ground since the release of her first song, "Bully Freestyle," in 2021. The Bronx native is arguably New York's hottest rapper, galvanizing a rabid audience through 2022's hyper-contagious, "Much (Feelin' U)" and "In Ha Mood"—both of which provided the perfect launchpad for her fiery debut EP, Like..?, which debuted at number 37 on the Billboard 200. Ice Spice's rocket ship reached a new stratosphere when her 2023 collaboration with PinkPantheress, "Boy's A Liar Pt. 2" reached number 4 on the Billboard Hot 100. With her trajectory, don't expect rap's new princess to return to Earth anytime soon.

Doechii

The official video for Doechii's "Crazy" depicts an impressive magic trick. Even though all of the dancers are naked and twerking; even though there's enough gun-toting and bullet holes for a John Wick sequel, the visuals' rawness never encroaches on gratuitously, never at the expense of the art. It's one of the reasons the product of Tampa, Florida took home the award for best choreography at the UK Video Music Awards. Truthfully, "Crazy" is an apt metaphor for Doechii as a whole: a multi-talented alternative hip-hop star that captivates both audibly and visually. Her 2022 EP, she / her / black bitch, is an eclectic example of her stylistic range. Her show-stopping performance of "Persuasive" at the 2022 BET Awards exemplifies her captivating showmanship. And her humility and praise for her inspirations while winning Rising Star at the 2023 Billboard Women In Music awards exemplify why she connects with so many fans both on and off wax.

Bahamadia

Bahamadia's rise to recognition was unexpected in retrospect. The success of her 1993 single, "Funk Vibe" unexpectedly led to her collaborating with Gang Starr (Guru and DJ Premier) who contributed heavily to her 1996 debut album, Kollage—a hip-hop classic featuring production from a bevy of heavyweights including DJ Premier, Da Beatminerz, The Roots, among others. Bahamadia's inimitable flow and ear for beats make her one of rap's best to touch the mic. Still, her work with the Women Of Hip-Hop and championing female MCs over the decade is where she indeed raises the bar.

M.I.A.

In every respect, M.I.A. is an international sensation. The London-by-way-of-Sri Lanka lyricist captured the globe with her massive hit "Paper Planes." Peaking at number 19 on the Billboard Hot 100, "Paper Planes" was then co-opted by Kanye West for T.I.'s "Swagger Like Us" (featuring Jay-Z and Lil Wayne), adding stateside life to the sensational single. In 2009, she took home the BET Award for "Best Female Hip-Hop Artist," and is the first person of South Asian descent to be nominated for a Grammy and an Oscar. But beyond the beats and rhymes, M.I.A.'s most accurate contribution to culture comes through her relentless activism. Throughout her career she's been outspoken online and in her music against the alleged human rights abuses the Sri Lankan government has levied against the Tamils, making her a refugee icon.

Charli Baltimore

Charli Baltimore's rugged vocals and reverberating beauty made every feature feel like the main event. The one-time Murder Inc. signee delivered arguably the most quotable bars on Ja-Rule's "Down Ass Chick" and Ashanti's "Rain On Me (Remix)" featuring Ja Rule and Hussein Fatal. Her Ghostface Killah-assisted single, "Stand Up" is an excellent example of how her style and vicious wordplay match with the best to pick up a microphone.

Khia

Khia is the queen of unapologetically doing her own thing. Her 2002 debut album, Thug Misses, was certified gold, peaking at number 33 on the Billboard Hot 200. But her classic single, "My Neck, My Back (Lick It)" became an anthemic hit record and a testament to women's empowerment. For example, NPR ranked "My Neck, My Back" as one of the greatest songs by women of the 2000s. Music seems to grow more salacious as the years go by and Khia's command to "Lick her neck, her back… her crack" felt like a tipping point at the turn of the century. Toss in her scathing commentary on pop culture and Khia freely expresses how she feels with or without an instrumental.

Lizzo

Lizzo puts the "multi" in multi-talented. The chart-topping rapper-slash-singer broke into American history in 2022 when she became the first person to play James Madison's 200-year-old crystal flute. The woodwind was on loan from the Library Of Congress, and Lizzo played a few notes on stage during her Washington, D.C. tour stop. From her Billboard 200 charting albums Cuz I Love You (peaked at number 4) and Special (peaked at number 2) to her two Billboard Hot 100 topping singles "Truth Hurts" and "About Damn Time" to her emphasis on body positivity and support for LGBTQ+ issues—this magnificent multi-hyphenate has broken down barriers and into American history in more ways than one.

Young M.A

When the release of her classic single "OOOUUU" broke big, it felt like all of New York celebrated the arrival of Young M.A. The Brooklyn-born MC was a fresh face with a fresh flavor and a super viral wavy new single. "OOOUUU" is currently four-times platinum and peaked at number 19 on the Billboard Hot 100. Young M.A's quintessential New York style and presence spill throughout her EPs Herstory and Red Flu, as well as albums Herstory History In The Making and Off The Yak. Away from the music, M.A created the KWEENZ Foundation which focuses on helping residents of East New York overcome grief and trauma.

Monie Love

Monie Love made hip-hop history in the 1990s when she became the first UK-born rapper to be nominated for two Grammy awards. The first was "Monie In The Middle" and the second for "It's A Shame", which peaked at number 1 on the Billboard rap charts. The Down To Earth-creator's empowering, message-based bars and colorful style made her a significant member of the Native Tongues (along with Jungle Brothers, De La Soul, A Tribe Called Quest, Queen Latifah, Black Sheep, and Chi Ali). And even after putting down the microphone in the early 2000s, Monie Love's cultural perspective carried on through her extensive radio career, most recently hosting the midday drive on KISS 104.1FM in Atlanta.

Snow Tha Product

Mexican-American MC Snow Tha Product is the personification of the fruits of following your own path. Blessed with the dexterous flow and bilingual wordplay, Snow has collaborated with everyone from Tech N9ne and Krizz Kaliko, to Ty Dolla $ign and Snoop Dogg, to Latin producer Bizzarap. The Bizzarap collab was a boondoggle for Snow as the collaboration landed her her first Latin Grammy nomination. And while her music has moved mountains for over a decade, her vocal support of human rights, LGBTQ+ issues, and Chicano culture has remained resolute throughout her career, raising the bar in all facets for Mexican-American lyricists.

Heather B

Introductions don't come much harder than Heather B's when she burst through the door with "All Glocks Down", an unbreakable anti-gun violence anthem. The track was featured on her 1996 album Takin' Names featured the brolic "If Headz Only Knew", which further signified how the Boogie Down Productions affiliate cannot be tested on the microphone. While Heather B's bars always remained tight, arguably her most significant impact was made in the media space. The Jersey City artist was featured in season 1 of MTV's Real World in 1992 and has held down co-hosting duties on Sway In The Morning since 2012. One part MC. One part media personality. 100 percent maven.

3D Na'Tee

From mic to plug, New Orleans' lyricist 3D Na'Tee is a tour de force in all aspects of MCing. Her 2013 single "Lil Kim"—which captures the dark journey of a 16 year old woman caught in a traumatic relationship with a man twice her age—oozes emotional intelligence and visceral storytelling. Her 2016 album, The Regime was released through All Def Digital and further highlighted her generational lyrical talent. Building immaculate musical experiences is just one of the ways she flexes her abilities for her audience. Her H.G.Tee-V (DIY) series is a must-watch for anyone who loves home improvement.

Hurricane G

Brooklyn's Hurricane G was a prominent member of the Hit-Squad collective, kicking scathing verses on tracks by Redman, Keith Murray, EPMD, and others, always flexing her Nuyorican flair and bilingual stylings. Her first charting single, "Somebody Else" (off of her album All Woman) landed in 1997 and peaked at number 10 on the Billboard Hot Rap Singles Chart. Having passed away in 2022, Hurricane G leaves a legacy of Puerto Rican pride and enduring lyrical skill set. Rest in power, Hurricane G.

Iggy Azalea

2014 was a massive year for Iggy Azalea. Not only did her debut album The New Classic, peak at number 2 on the Billboard 200, an incredible feat for any artist. But her single "Fancy" featuring Charli XCX topped the Billboard Hot 100 simultaneously as her feature on Ariana Grande's "Problem" reached number 2—making her the first international act since The Beatles to debut in the first two positions simultaneously. The Australia-born artist is also the first non-American female rapper to top the US R&B/Hip Hop charts, raising the plane for every international MC to follow.

Lady Of Rage

A strong argument can be made that Lady Of Rage was the most visible west coast female MC in the 1990s. 

The Los Angeles native made terrifying appearances on Dr. Dre's seminal album, The Chronic ("Lyrical Gangbang," "Stranded On Death Row," and background vocals on "High Powered"), Snoop Dogg's certified classic, Doggystyle ("For All My Niggaz & Bitches"), as well as Tha Dogg Pound's celebrated, Dogg Food ("Do What I Feel") upping the lyrical ante every time she blessed the microphone. 

Her hit single, "Afro Puffs," with its fight-ready energy and undeniable Blackness, peaked at number five on the Billboard Hot Rap Singles chart and was featured on the Above The Rim Soundtrack. 

She also made her way to the big screen with standout performances in Next Friday and a recurring role on The Steve Harvey Show. Rage represented the West Coast on the mic and under the Hollywood lights.

Justin "The Company Man" Hunte is an award-winning journalist, producer, and creator of 'The Breakdown,' a popular video series on YouTube. The Los Angeles-based multi-hyphenate currently serves as the Vice President of Production & Acquisition.