Hip-Hop History Month: Hip-Hop's Influence Went Nationwide With These Top Acts From The 2000s
By the early 2000s, each coast had its aspiring kings and queens of rap.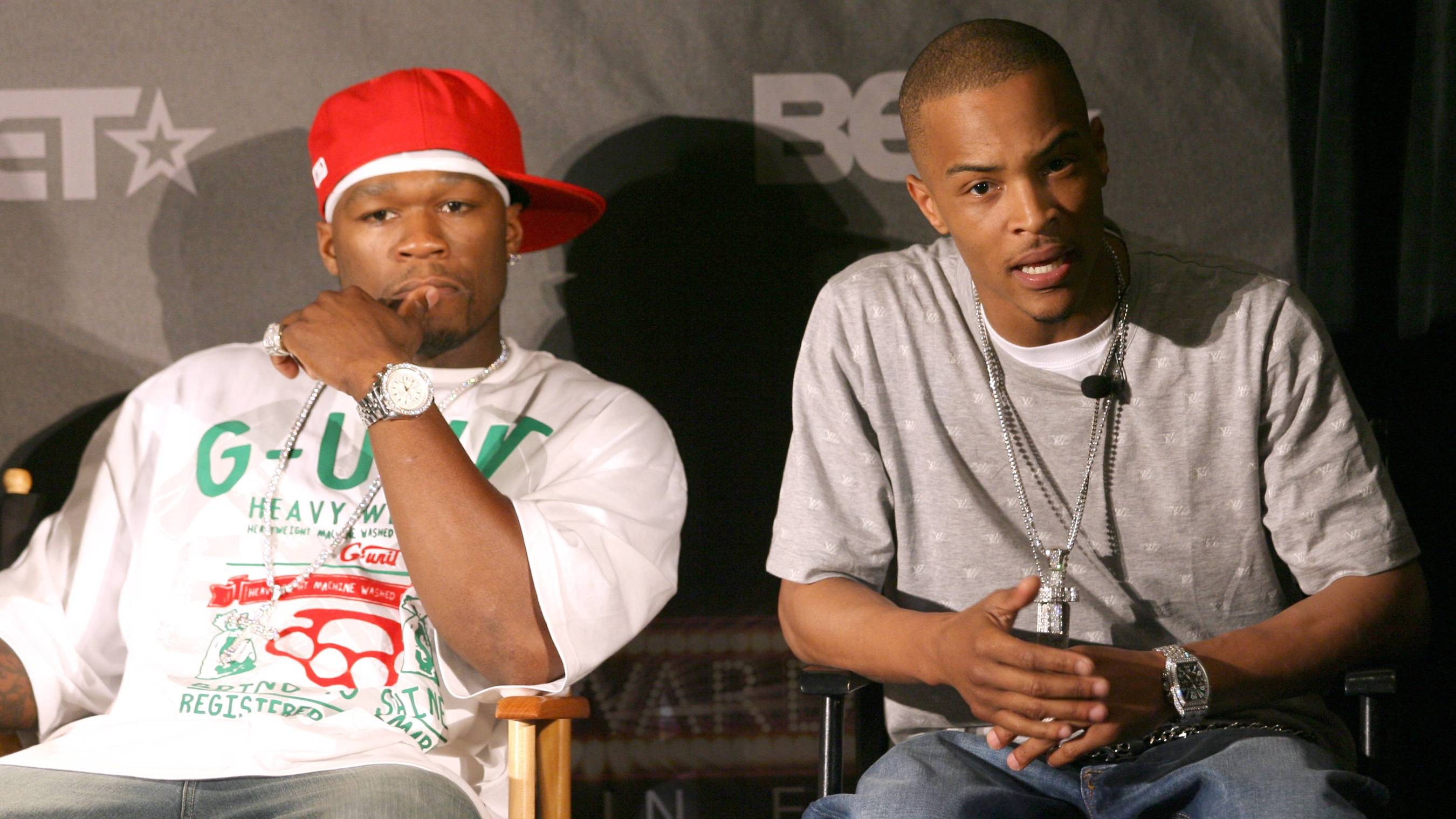 A lot can be said about the "Bling Era" of hip-hop in the early 2000s. The genre had commercialized, and rappers from across the nation were popping up with something to prove, including The Game, T.I., 50 Cent, Remy Ma, Jadakiss, Trina, Rick Ross, Common, Lupe Fiasco, Kanye West, Nelly, Freeway, Beanie Sigel, and plenty more.
Rappers had to put their skills on full display. Artists like 50 Cent, Lil Wayne, Fabolus, and more would pull up to "the basement" on Rap City with Big Tigga and lay down a freestyle over an iconic rap beat.
It also saw a rise in regional styles. The South, who had almost been left out of the conversation entirely, showed up with a new sound that still has substantial playback value during a DJ set at a rooftop day party.  It's also its first-of-a-kind dance craze with artists like Soulja Boy, who released "Crank That (Soulja Boy)" in 2007, marking one of the earlier recorded cases of a rapper gaining fame with the use of social media.
Kanye popularized the chipmunk soul sound, famously heard on the Chicago native's debut single "Through the Wire," which featured a sped-up sample of Chaka Khan's "Through the Fire." Though the ten-time Grammy Award-winner gave the emcee the approval, she often vocalized regret in the decision.
By the end of the first decade into the new millennium, a narrative that "hip hop is dead" soon rose, which was in response to the art form being over-saturated with crunk music and snap rap. Nas was so pressed about it that he dedicated his eighth studio album to his frustrations in 2006 and titled it Hip Hop is Dead.  His efforts earned him a Grammy nomination for 'Best Rap Album,' but he lost to Kanye West's Graduation at the 50th annual ceremony.
In honor of Hip-Hop History Month, we're revisiting some of the genre's most influential acts of each decade. While there are many, and we mean many, to choose from, here are just a few that quickly came to mind. Check them out below.
T.I.

Atlanta native T.I. is best known as one of the pioneers of hip hop subgenre trap music, along with fellow Atlanta-based rappers Jeezy and Gucci Mane. Throughout his illustrious career, putting himself and both his city on the rap map, he released 11 studio albums, seven of which reached the top five of the US Billboard 200 chart. He's ventured into other lanes hip hop created for itself at that time, including fashion, business, and television.

T.I. was not only one of the top artists of the decade but highly respected as an overall hip-hop figure, often publicly speaking out on issues affecting the Black community in the same ways music has done.

50 Cent

In 2003, 50 Cent created G-Unit Record and brought on several notable acts, including rappers Lloyd, The Game, Mobb Deep, Young Buck, and singer Oliva. He would later take over television shows like his Power universe and other feature-length films.

Fif was mentored by the late Jam Master Jay of Run-DMC, but his journey to becoming a successful emcee almost ended after he was shot nine times, but through strength, he released a track titled In Da Club that made his second chance in life more meaningful.

Eminem

Eminem forged his own, though at first controversial, path in an already gritty industry to becoming one of the greatest rappers of all time. Some may say it's debatable considering the Beastie Boys; however, Em's international success pushed the door open for white rappers to be accepted in the art form. Like Missy Elliott, Em made noise in the late 90s with his debut album Infinite and his EP Slim Shady in 1997.

After singing with Dr. Dre's Aftermath Entertainment label imprint, the rest was history. In 2002, Em's second album, The Eminem Show, became the year's best-selling album worldwide. In 2002 he snatched an Academy Award for Best Original Song for "Lost Yourself" from his musical drama film 8 Mile, marking the first hip-hop artist ever to win the award.

In the following years, he released several number-one albums, including The Marshall Mathers LP 2, Revival, Kamikaze, and Music to Be Murdered By in 2020.

Kanye West

Despite his recent spiral, Kanye West remains one of hip-hop's greatest architects.  The Chicago native redefined how the genre could be presented, and ultimately, alongside acts like Diddy, 50 Cent, and others, Ye proved hip-hop could take someone from the hood to billionaire status. Regardless of your opinions as of 2022, there's no debate that hip-hop would look much different without projects like College Dropout, Late Registration, 808s and Heartbreaks, and plenty more.

Missy Elliott

Multi-talented emcee, singer, and songwriter Missy Elliott could have easily been listed on our previous list of top 90s acts after getting her start as part of the r&b group Sista in the early-mid- 1990s and later as a solo artist in 1997 with the release of her debut studio album Supa Dupa Fly with spawned classic joints like "Sock It 2 Me" and "The Rain" while working with groups like Total and SWV.

However, by the 2000s and after two projects, Missy would gain global success with the release of several albums, including  With the release of Miss E... So Addictive in 2001, Under Construction, and This Is Not a Test, which were released one year apart and featured singles such as  "Get Ur Freak On," "One Minute Man," "4 My People", "Gossip Folks," and "Work It." The latter won her a Grammy Award for Best Female Rap Solo Performance.

Missy still creates to this day, and her influence can be seen in acts today like Tierra Whack, Doechii, and many more.