Lizzo Plays 200-Year-Old Crystal Flute Owned By President James Madison During Performance
She's the first person to play the instrument, which was borrowed from the Library of Congress.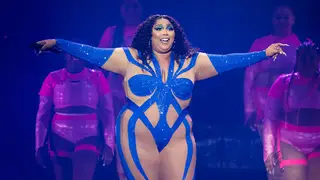 Lizzo made history in an unexpected way during a recent performance in Washington, D.C.
During the singer's "The Special Tour" stop at Capital One Arena in Washington D.C. on Tuesday (September 27), she accepted an invitation from the Library of Congress to play a 200-year-old flute that was once given to former President James Madison. The flute is believed to be one of the few things first lady Dolly Madison saved after British troops set fire to the White House in 1814.
According to Lizzo, she's the first person to ever play the instrument during a performance.
"It's crystal! It's like playing out of a wine glass," she told her audience of the instrument, which she only played a few notes through, according to NBC Washington.
After all, she's a classically trained flutist, so why not have her be the person to test what it sounds like after all these years?
"Thank you to the Library of Congress for preserving our history," Lizzo added.
"It's not clear if Madison did much with the flute other than admire it, but it became a family heirloom and an artifact of the era," the Library added about the instrument.