Pat Houston: I Was Planning an Intervention for Bobbi Kristina
The young scion's godmother is speaking out for the first time since her death.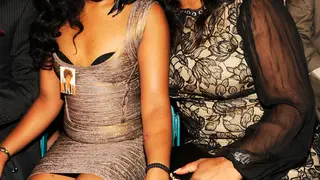 Three months after Bobbi Kristina Brown passed away, her godmother, Pat Houston, is breaking her silence for the first time. Speaking to Entertainment Tonight, Whitney Houston's sister-in-law reveals the troubling signs that led to Bobbi Kristin's sad demise after spending six months in a coma, and what she tried to do to help.
"When we really found out that Krissy was in trouble, we were really making plans to do something about it, but it just came too late," she told ET.
This plan included having the 22-year-old enroll in a rehabilitation facility in California, but, according to Houston, they weren't able to talk to Bobbi Kristina in time to actually follow through.
Houston adds that said she knew the aspiring singer's relationship with her boyfriend, Nick Gordon, was toxic — which was part of the reason she filed a restraining order against him after he posted threatening images with guns across social media. According to Houston, while the world thought that she and Bobbi Kristina were at odds because of her romantic involvement with Gordon, they were, in fact, constantly communicating.
"We had a little hiccup with the restraining order," she said in reference to her relationship with her niece. "The world saw she was angry and mad at me, but she was texting me all along."
Gordon, who has been suspected of having a hand in Bobbi Kristina's death, was accused of injecting her with a "toxic mixture" before she was found unconscious in her bathtub.
Though her goddaughter is now gone, Houston wishes she could have said these words to her before she died: "You don't have to be afraid to speak out. You have to have self-worth. You have to love yourself. You have to call on people and not allow someone to divide you and then conquer you."
Take a look at the video below to remember Bobbi Kristina's memory:
BET.com is your No. 1 source for Black celebrity news, photos, exclusive videos and all the latest in the world of hip hop and R&B music. 
(Photo: Kevin Mazur/WireImage)