Anthony Anderson Will Pay Ex-Wife Alvina Anderson $20,000 a Month in Spousal Support
Their divorce was finalized earlier this month after being married for 22 years.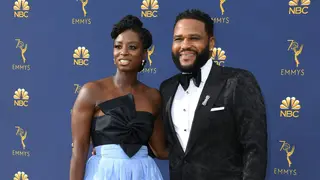 Earlier this week, Anthony Anderson settled his divorce with his ex-wife Alvina Anderson. The couple had been married for 22 years. The black-ish alum has been ordered to pay her $200,000 a year in spousal support.
According to court documents obtained by PEOPLE, the documents also cite that if he makes more than $2 million a year, he will have to pay her an additional 20 percent, increasing her yearly support to $400,000.
The court determined that the comedian will keep their property in Encino, CA, along with a 2004 Land Rover. As for his ex-wife, she will retain their home in Houston and will keep a 2022 Mazda.
Furthermore, they must sell and divide the earnings from a cemetery plot at L.A.'s Inglewood Park Cemetery.
Five years later, she filed for divorce again. On March 25, 2022, she listed their separation date as "TBD" and sought spousal support from Anthony and for him to cover her legal fees. Days later, he requested a dissolution of marriage and listed February 25 as their separation date due to irreconcilable differences, as reported by the outlet.
The now-divorced couple exchanged vows in September 1999. They share two adult children: daughter Kyra, 26, and son Nathan, 22.