Five Black Authors With Global Roots To Read This Month
These books will give you a glimpse into places and experiences from an international perspective.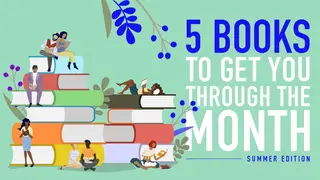 The importance of Black voices can't be overstated, making the need for Black authors ever so valuable. They can offer insight into experiences that those within and outside of the culture can better understand through the lens of Black characters. And while the American Black experience is multilayered and yet to be fully explored, it is vital to also focus on the Black diaspora, which is why we have chosen a selection of books from authors with global roots that we think you will enjoy.
As we close out July, here are five books that can get you going into August. We hope that they offer a glimpse into what the Black experience can look like beyond our borders.
 
Americanah, by Chimamanda Ngozi Adichie

Chimamanda Ngozi Adichie was born in 1977 in Nigeria. The esteemed writer and activist grew up during the Nigerian Civil War and, at 19-years-old moved to the United States to study. Among her books and essays is her critically acclaimed novel Americanah, which examines race and what it means to be Black in America, Nigeria, and Britain.

The book, which won the US National Book Critics Circle Award tells the story of Ifemelu, a brilliant and strong Nigerian woman whose experiences sometimes echo that of the author herself. Ifemelu migrates to the United States and struggles but never lets go of her high school boyfriend, Obinze, who also left Nigeria, but for London instead.

Though it is a love story, it also leans into politics and feminism. It is unscrupulously authentic in addressing the realities of where we still are today and how the color of one's skin is often used as a judgement vehicle. "I came from a country where race was not an issue; I did not think of myself as Black and I only became Black when I came to America," says Ifemelu.

The harshness of that reality is digestible because of the graceful way in which the generic is replaced by beautiful and elegant descriptors used to tell the story of the characters' complexions: caramel, sable, and gingerbread.

Adichie, who divides her time between Nigeria and the US, has had her work translated into more than 30 languages.

Liccle Bit by Alex Wheatle

Alex Wheatle is an award-winning writer of Jamaican descent who grew up in South London. Wheatle began reading the works of authors Richard Wright and John Steinbeck while imprisoned for his participation in the Brixton riots of 1981. His young adult novel, Liccle Bit, delves into themes of love, family, loyalty, and having to make tough life choices through the experiences of 14-year old Lemar.

The teen, shares a home with his mother, his big sister, and her baby. As he struggles to find himself, and side-step gang activity, he navigates his way around those who wish to take advantage of him for their own gains. It is a poignant story served up with rich humor.

The Devil that Danced on the Water by Aminatta Forna

Aminatta Forna is an award-winning writer born in Scotland and raised in Sierra Leone and Great Britain. She also spent some of her formative years in Iran, Thailand, and Zambia. Although she has several novels, her memoir The Devil that Danced on the Water stands out as her captivating storytelling makes you feel like you are in the midst of what is happening.

It is a powerful and personal retelling of corruption, history, and how as a child, Forna lived through unstable post-colonial Africa, exile in Britain, and the fallout from her father's —Mohamed Forna—stance against the tyranny in their homeland.

You will get to experience her relentless pursuit to uncover the truth about what happened to her father, as well as her pain and her sorrow.

The Sun Is Also a Star by Nicola Yoon

If you have seen the movie The Sun Is Also a Star, then you are familiar with the work of New York Times bestselling author Nicola Yoon. The film, which is based on the young adult fiction book, stars actress and activist Yara Shahidi and actor Charles Melton. The story follows two teens —Natasha and Daniel—who meet and fall in love over the course of a single day in New York City.

Natasha and Daniel's paths are drawn together as she tries to keep her family from being deported, and he is on his way to a college interview. The story addresses what it means to fall in love and also the beauty of possibilities. Yoon, who grew up in Jamaica, is also the author of Instructions for Dancing and Everything, Everything.

Stay With Me by Ayobami Adebayo

Being married can be beautiful, but it can also test your beliefs, and those themes are at the heart of the story of the two main characters from Nigerian writer Ayobami Adebayo's book Stay With Me. Yejide and Akin meet in college and fall in love knowing that polygamy wasn't something either wanted. But that gets tested as the couple struggled to have a child.

After years of drinking teas meant to help her get pregnant and consulting with fertility doctors, Yejide's in-laws visit and with them Akin's second wife. Blinded by jealousy and hurt, Yejide believes that her only chance of saving her marriage is to get pregnant— and she does— but the cost of that decision is a tough price to pay.