Turk Of The Hot Boyz Praises Trump And Says He's 'Done More For Blacks Than Obama'
Lil Jay of Crime Mob is also a supporter of the president.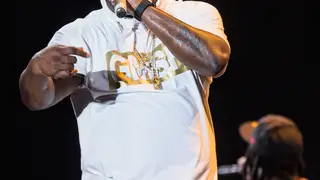 Turk from the Hot Boyz is the latest rapper to throw his support behind Donald Trump.
Taking to Twitter, the New Orleans rapper wrote that the current president has done more for Black people than Barack Obama did during his eight years in office.
"TRUMPA ADMINISTRATION HAS DONE MORE FOR BLACK'S THAN OBAMAS ADMINISTRATION AND I'LL CHALLENGE ANYONE TO ARGUE THAT. #BIGTHUGGIN," he tweeted.
Of course, this caused a lot of backlash. See what some had to say below.

This isn't the only member of a famed Hip Hop group who recently revealed his support for 45. Lil Jay, the main producer for Crime Mob, also said he was a Trump supporter and towed a similar line, claiming, without any real proof, he's done a lot for the Black community.

"Yes I really do support Trump yes I do. But it's my views, you just can't just wipe it off and say he's a racist," he wrote in an Instagram post. "Look at the speeches, look at his policies, go to the website, and see what he did for black people. Even if you're not a pro-black or whatever it is, look at the policies. Compare his s**t to Obama s**t, when it comes to black people."

This had social media calling for a cancellation of Crime Mob's most famous anthem "Knuck if You Buck," which Jay produced.

*Facepalm* 2020 needs to hurry up and end already.