Herschel Walker's Son Posts Unhinged Video Yelling At Kehlani In Starbucks
Christian Walker approached the singer's car in the drive-thru window.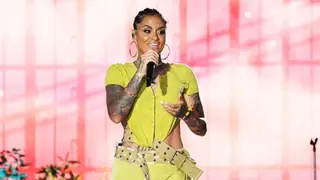 While Republican candidate for Senate in Georgia, Herschel Walker, is making news for strange speeches about climate change, his son is trending for screaming at singer Kehlani at a Starbucks drive-through.
Christian Walker, 22, was outraged about the display of pride flags at Starbucks and appeared to rant his frustrations to the baristas. Then, according to Walker, Kehlani told the barista  that he's an "a**hole" and to exercise caution around him. This prompted Walker to accost Kehlani in the middle of the drive through, where he is seen screaming at her while she sits in her car waiting for her order, "You don't need to tell baristas I am an a****le because I have an opinion!" he is seen screaming in a video he recorded. "Get your drink and go away!"
He continued, "If you can have an opinion, I can have an opinion!"
Kehlani calmly looked at Walker as he raged. Walker posted the video with the caption, "This mediocre singer that everyone's forgotten about, Kehlani, told my baristas at Starbucks that I was an 'a**hole' and to be 'safe around me.' Well, I set her straight. I'm tired of these fake woke people being rude to everyone and acting like they're the good ones."
Supporters of Kehlani mocked Walker for tweeting he "loved" the singer back in 2016, which Kehlani reposted on her Instagram Stories.
The singer has not made an official statement about the incident.