Herschel Walker Makes Bizarre Comments About Climate Change
The former NFL player is looking to unseat Sen. Raphael Warnock as senator of Georgia.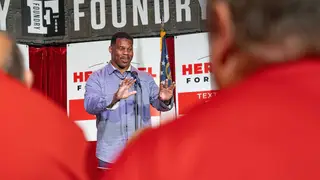 Republican Georgia Senate candidate Herschel Walker has left people scratching their heads with his recent comments about climate change.
During a recent campaign event in Georgia, Walker said, ""So what we do is we're going to put, from the 'green new deal,' millions or billions of dollars cleaning our good air up. So all of a sudden China and India ain't putting nothing in there – cleaning that situation up."
He continued, "So all with that bad air, it's still there. But since we don't control the air, our good air decide to float over to China, bad air. So when China gets our good air, their bad air got to move. So it moves over to our good air space. And now we've got to clean that back up."
Walker has been lampooned for the hard-to-follow remarks in outlets from The View to The Breakfast Club. Eugene Robinson wrote for The Washington Post,  "Walker seems to believe he knows everything about everything — while his words suggest he knows nothing about anything at all."
This is just one of many awkward statements from Walker, a Trump-supported candidate running for the U.S. Senate seat currently held by Democrat Rev. Raphael Warnock. Walker has been in the center of controversy for his conservative viewpoints on multiple topics including his anti-abortion stance, for which he supports a total bacn with no exceptions; and gun control, for which he seemed to propose a governmental agency to monitor "young men that's looking at women that looking at social media." Walker has for years attacked fatherlessness in the Black community, although he reportedly lied to his campaign about his "secret" children, and had to admit to being the father of four. Walker, until this spring, publicly had admitted to fathering only one child.