Bill Cosby Lashes Out At Howard University For Denouncing Phylicia Rashad's Tweet
He seems to be considering a petty move against the HBCU.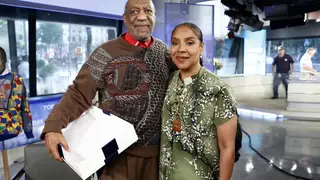 Bill Cosby supported his former co-star Phylicia Rashad after Howard University, where she's a dean of fine arts, disavowed her tweet celebrating his release from prison for sexual assault.
"Howard University you must support ones Freedom of Speech (Ms. Rashad), which is taught or suppose to be taught everyday at that renowned law school, which resides on your campus," Cosby said in a statement released by spokesperson Andrew Wyatt, according to Hollywood Reporter.
There's also some speculation that Cosby might ask Howard to return donations that he may have given to the historically Black university.
That's based on his apparent show of support for a tweet from R&B singer Stephanie Mills, in which she said Howard "should give back the millions of dollars that he (Cosby) donated to the university."
Rashad, a Howard aluma, took to Twitter to share her joy that the Pennsylvania Supreme Court overturned Cosby's conviction.
"FINALLY!!!! A terrible wrong is being righted- a miscarriage of justice is corrected!" the tweet said.
It was removed after people complained that Rashad was insensitive to Cosby's alleged sexual assault victims. There were some calls for her dismissal from the university, the Associated Press reported.
Howard released a statement that said, "Survivors of sexual assault will always be our priority."
She later apologized.
"My remarks were in no way directed towards survivors of sexual assault. I vehemently oppose sexual violence, find no excuse for such behavior, and I know that Howard University has a zero-tolerance policy toward interpersonal violence," Rashad says in a letter, posted Friday, July 2.