Tomi Lahren Is Getting Dragged for Saying Mainstream Media 'Sabotaged' Her Comments on Obamacare
"Quoting you verbatim, in context, is not sabotaging anything."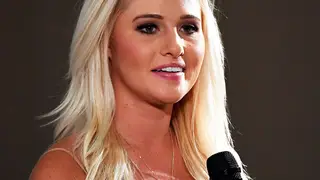 After getting Tomi Lahren to admit to benefiting from the clause in Obamacare which allows her to stay on her parent's health insurance, the right-wing former TV host is blaming the media for accurately quoting her. 
While debating comedian Chelsea Handler at Politicon, Lahren spent a good deal of time bashing Obamacare while also admitting to using Obamacare. Needless to say, her hypocrisy was covered by just about every media outlet.
Recently, Lahren wrote an op-ed for The Hill, wherein she claimed the "crooked mainstream media" ruined her morning. 
Lahren tweeted out her 'final thoughts' while also accusing the media of sabotaging her words

"Yes, I have benefited from the ObamaCare provision allowing young adults to stay on their parents' insurance plans until age 26. Yes, some provisions in the law make sense. That one certainly does. The law's coverage of pre-existing conditions is another, and any Republican healthcare plan should include something similar...
"But facts won't get in the way of the media's liberal crusade. Regardless, my debate with Chelsea was an important step for free speech, which has been under assault from liberal snowflakes for years on America's college campuses," wrote Lahren.


Although Lahren's piece attempted to blame the media for twisting the dialogue she had with Handler, most people reminded the 24-year-old that nothing was taken out of context

Lahren's piece about Obamacare seemingly resulted in more people calling her out for her original comments