Adrienne Bailon Houghton Gives Fans A Tour Of Baby Ever's Luxe 'Concrete Vibe' Nursery! [VIDEO]
Baby Ever James was born in August 2022.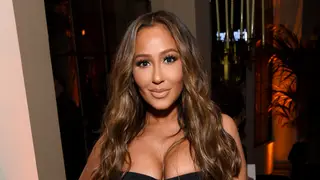 Adrienne Bailon Houghton is giving her fans a glimpse inside her son's nursery! The busy star recently took to Instagram with a quick tour of Ever James' room.
"We're so excited to finally reveal our baby boy @everjames nursery! I loved designing it w/ his sissy @mariah.houghton! Here's a sneak peek," the proud mom captioned an Instagram video on October 20.
Check out the video below!
"I didn't want a traditional corny nursery or for it to become kiddie-like. I want the cool, sophisticated kid with a concrete vibe. That's exactly what we did and I'm obsessed with it," Adrienne told E! News about the inspiration behind the design which features neutral colors, concrete table lamps, beautiful artwork, and a cozy wool area rug.
The E! News talk show host added, "It has been such a wild journey with IVF. I had very limited embryos, but I didn't know what I was having initially and when I found out it was going to be a boy, that's when I started thinking about the room. I knew I definitely didn't want baby blue or those sort of vibes. It definitely took a minute. I went on Pinterest."
When we spoke to Adrienne and her husband Israel Houghton in September, the couple shared the news that their New York home was finally complete after a lengthy renovation.
"It is done and we are going to be stepping into a brand new home! His nursery is finished," Adrienne happily shared with us. "I'm excited to bring him home to New York."
If the above video is any indication, renovations in the Houghton household were well worth the wait. Congratulations to the loving family on the completion of their dream home!
FYI: Ever James was born in August 2022 via surrogate.