Black Support of Black Lives Matter Movement in Decline, Poll Finds
The BLM movement has seen a decrease in support across demographics according to a University of Massachusetts Amherst survey.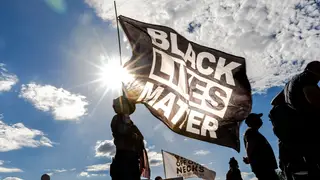 Black Americans' support for the Black Lives Matter movement is declining steeply, according to a poll conducted by YouGov, Newsweek reports. While the overall support for the movement's goals decreased from 65 to 49 percent, African American respondents' approval dropped from 67 percent to 56 percent since last April.
The poll of 1,000 people, conducted between May 5 and 9, found support for the movement's goals had decreased from 48 percent to 31 percent.
Newsweek says that the University of Massachusetts Amherst survey, directed by associate professor of political science, Tatishe Nteta, said that Americans "may be growing tired of the Black Lives Matter movement."
The disaffection with the civil rights group comes after the leadership faced wide criticism that the purchase of a $6 million Los Angeles mansion by leadership was made without full transparency and with donations.
A New York Magazine article on the financial details of the BLM organization summed up that in the time following the George Floyd protests, "donors gave the nonprofit nearly $77 million during the fiscal year. It spent nearly $38 million, with about $26 million in grants going to other activist groups, Black Lives Matter chapters, and other social-justice causes. By the summer of 2021, the organization had $42 million remaining in assets."
Patrice Cullors, a co-founder of the BLM movement, has been under scrutiny since the article was released. Much of the focus was on a Los Angeles home she reportedly purchased for $1.4 million (unrelated to the other home purchase). She addressed the controversy on FOX Soul's  Hollywood Unlocked.
"I didn't think that it would be an actual upset that I bought a house, I did not think that," she said. "If I thought that, I would have done things differently."
In the meantime, Nteta explains that she finds the decline in BLM support across the spectrum. She told Newsweek, "What is somewhat surprising is that this decline is seen across the board, with ardent supporters of police reforms such as progressives, Democrats, African Americans and young Americans also exhibiting a decrease in their support for these changes."