Steph Curry And Chance The Rapper Assist President Obama In This New Ad For 'My Brother's Keeper'
Not surprising, considering the two-time NBA MVP and former POTUS have a rapport.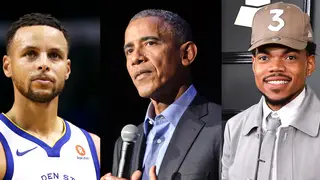 My Brother's Keeper was a hallmark legacy initiative founded by President Obama during his time in the Oval Office.
And the star-studded likes of Steph Curry and Chance the Rapper are doing their part to make sure that the initiative's powerful message and goal remains strong for years to come.
Both the two-time NBA MVP and the superstar MC make cameos in a new ad for My Brother's Keeper Alliance, with Curry and Chance each looking at their cell phones while the former POTUS delivers his speech from his initial MBK announcement.
"I want you to know, you matter," then-President Obama said at the time, as his words from that 2014 speech begin to play in sync with the start of the ad. "There is nothing, not a single thing, that's more important to the future of America than whether or not young people all across this country can achieve their dreams."
Check out the powerful ad , including Curry's and Chance's cameos, below.
BET Sports News — Get the latest news and information about African-Americans in sports, including weekly recaps, celebrity news and photos of your favorite Black athletes.