[Watch] Kobe Bryant Has Sendoff Fit for a King in Final Game
The Black Mamba makes his last NBA game more than memorable.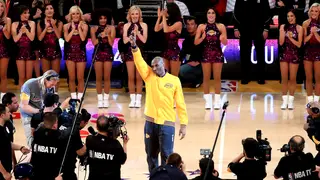 In the final game of his NBA career Wednesday night, the Black Mamba went out like he came into the league — shooting and scoring...a lot.
Bryant dropped an unreal 60 points on 22-of-50 shooting, giving his fans one more look at greatness, as his Los Angeles Lakers defeated the Utah Jazz 101-96 before a sold-out Staples Center crowd in L.A. His final Herculean scoring display managed to outshine the Golden State Warriors' record-setting 73rd win, as Kobe was trending after the game, but Dub City wasn't. 
After the Lakers gave him a moving pre-game tribute, Bryant put on his game face and went to work just like he has for the past 20 years, turning back the hands of time for one last set of fireworks. 
Just look at Hov's reaction to Bryant's hot hand early on.
And pretty soon, he was leaving Snoop in awe, too, as he reached 40 points.
Forty points turned into 50...
And 50 points turned into the unthinkable 60.
A spent Bryant left everything out on the floor, thanking fans for all their support over his glorious 20-year career following the game.
"Man!" Bryant told ESPN after scoring 60 points. "You know, I can't believe how fast 20 years went by. This is crazy. This is absolutely crazy."
Before Bryant lit the scoring board on fire one last time, he was treated to a memorable pre-game ceremony by Lakers' and NBA greats.
Magic Johnson said it best - "We are here to celebrate greatness for 20 years. Excellence for 20 years."
And the Lakers made sure to give him a memorable sendoff fit for a king.
The pre-game festivities began with a thrilling final highlight reel, covering Bryant's 20 years in the league, which included his five championships, a league MVP, two Finals MVPs and 18 All-Star Game selections.
From there, Magic took the court, giving Bryant his just due as not only one of the Lakers' greats, but one of the greatest players the game has ever seen, period.
Before taking the Staples Center court to be showered with deafening applause one last time, Bryant was treated to a video montage with some of his former teammates, including Shaquille O'Neal, Derek Fisher and Lamar Odom, in addition to ex-Lakers coach Phil Jackson, and stars around the league like LeBron James, Stephen Curry and Carmelo Anthony. It even closed with acting legend and die-hard Lakers fan Jack Nicholson commenting about the Black Mamba's greatness.
After embracing Magic, Kobe waved to the crowd, who gave him a rousing standing ovation.
And then came being introduced in the Lakers' starting lineup for the very last time.
That's before he walked off the Staples Center court, delivering one more memorable moment with a 60-point game that nobody saw coming.
Competing until the very end and giving the game everything he had.
The game and fans, alike, will miss you. Just as he said, Mamba out.
BET Sports News — Get the latest news and information about African-Americans in sports, including weekly recaps, celebrity news and photos of your favorite Black athletes.
(Photo: Sean M. Haffey/Getty Images)