Here's Why Q-Tip Is Not Impressed With The Grammys 'No White Men' Milestone
He's got some choice words (and fingers) for the Recording Academy.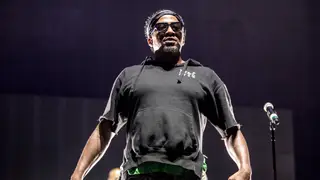 2017 is wrapping up, and the Recording Academy has rolled out its official 2017 Grammy nominations list, an annual anticipation that's as polarizing as it is prominent for music enthusiasts everywhere.
In light of one the Recording Academy's nomination snubs, the Abstract Poet Q-Tip held up a rather concrete middle finger for the cold shoulder to his culture-marking hip-hop collective, A Tribe Called Quest. The legendary group released their last and final album the same year it lost one of its key members to diabetic complications in 2016, Phife Dawg. Apparently, according to Q, a performance from the group at the Grammys ceremony back in February, a No. 1 Billboard 200 debut, and raving reviews for their We Got It From Here...Thank You 4 Your Service album wasn't enough for a Grammys nod.
And he's taken to a series of five Instagram videos to explain why he's more than unimpressed with this year's selections, despite 2017 marking the first year in Grammys history that no white male solo artist has nabbed an Album of the Year spot. 
Q paid paid his respects to everyone who was nominated, such as 9th Wonder, but argues that A Tribe Called Quest has long been pushing the culture forward

And the Recording Academy's lack of a nomination is a direct slap in the face despite that. 

Especially considering the culturally momentous 'We Got It from Here... Thank You 4 Your Service' album of 2016

Landmarking the group's final industry go-round, the opus scored a Billboard 200 debut and featured hip-hop's biggest names of past and present like Kendrick Lamar, Anderson .Paak, Kanye West and André 3000.

And if there's anyone who has a right to be angry about a Grammys snub, he continued, it's him

"None of y'all rap n***as don't say sh**," he said. "F**k that. Don't say sh**. Motherf**king right I'm hot. Last Tribe album and y'all n***as don't give us no f**king nominations?" He also called out other music legends he believes were robbed in their career tenures. 

Need he also remind the Recording Academy of how difficult it was for the group to perform without their fallen Triber who passed away last year, Phife Dawg

A heartbreaking loss that added even more injury to the insulting nomination snub.

Before dropping the mic, it's not to be confused, though: no shade toward his fellow hip-hop brethren that did make the nominations list

As for the rest of the Recording Academy, though, he's holding a firm middle finger until further notice.