Michigan State Student Wins 14 Scholarships
Aubrey Perry was determined to find a way to pay for college by applying for more than 100 scholarships.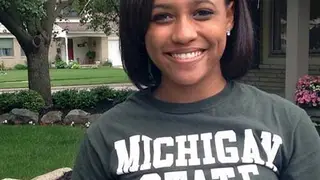 Paying college tuition these days is no easy feat. As Aubrey Perry headed into her senior year of high school, the harsh reality of her parents' economic situation hit, and she knew she had to take matters into her own hands.
That's when Perry started focusing on scholarship applications. In all, Perry applied to more than 100 scholarships. She ultimately won 14 awards. In her eyes, no amount was too little. 
"It was a very sobering and emotional conversation when my parents told me that there was no money saved for college," Perry told the New Pittsburgh Courier Online.

"I knew that if I wanted to go to a major university like Michigan State, I'd have to start participating in the type of activities that matter to admissions directors — and especially scholarship selection committees," Perry said. So she ventured out, doing community service and other activities that demonstrated leadership skills. 
On Oct. 13, Perry will accept the last scholarship she was awarded, the Rainbow PUSH Excel/GM Scholarship, at a luncheon where she'll meet Rev. Jesse Jackson. Perry recently started her freshman year at Michigan State University and hopes to study marketing.
Perry's $17,000 in scholarship money covered most of the $22,450 tuition, and she took out a loan for the rest.
BET National News - Keep up to date with breaking news stories from around the nation, including headlines from the hip hop and entertainment world. Click here to subscribe to our newsletter.  

(Photo: aubreymperry.blogspot.com)