Supreme Court Justice Ketanji Brown Jackson Urges Educators to Teach Nation's History Of Racism
She warned that the erasure of Black history leads to "complacency and ignorance."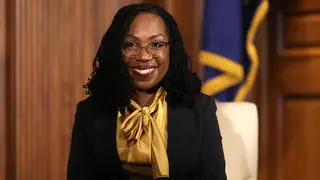 U.S. Supreme Court Justice Ketanji Brown Jackson, the first Black woman to serve on the high court, has urged educators to teach the truth of the history of race in America in the classroom, Reuters reports. 
On Friday, Jackson was the keynote speaker at an event held at 16th Street Baptist Church in Birmingham, Ala, commemorating the death of Addie Mae Collins, Denise McNair and Carole Roberston, and Cynthia Wesley who were killed when the edifice was bombed by the Ku Klux Klan 60 years ago on Sept. 15, 1963. She pushed back against conservative lawmakers and public education administrators who have been accused of whitewashing American history by removing the horrors of racism that Black Americans have endured.
"I know that atrocities like the one we are memorializing today are difficult to remember and relive, but I also know that it is dangerous to forget them," said Jackson.
Also in her address, Jackson warned against the "complacency and ignorance" that's spreading across the nation when it comes to African American history.
"Learning about our country's history can be painful, but history is also our best teacher," she continued "Our past is filled with too much violence, too much hatred, too much prejudice, but can we really say that we are not confronting those same evils now? We have to own even the darkest parts of our past, understand them, and vow never to repeat them."
Jackson's comments stem from several states that have enacted legislation that seeks to prohibit how history is taught in schools including Virginia.  After a six-month intense review, students in Virginia are now allowed to take an AP African American studies course designed by the College Board.
On Monday, the Virginia Department of Education ruled that the course was not in conflict with Gov. Glenn Youngkin's first executive order which sought to eradicate Critical Race Theory (CRT) from public schools.
"At the governor's request, Secretary Guidera conducted a review of the AP African American Studies course," a spokesperson for Youngkin said, according to WRIC. "After a thorough analysis, the Secretary of Education has determined that the AP African American Studies course meets executive order one standards and the pilot will be offered in some Virginia schools this coming fall."
Initially, the Youngkin administration requested that revisions be made to the course to ensure that no "divisive concepts were not included to be in alignment with the governor's executive orders."
"After numerous reports about draft course content, the governor asked the Education Secretariat to review the College Board's proposed AP African American Studies course as it pertains to Executive Order 1," Macaulay Porter, a Youngkin spokeswoman said at the time.
Jackson argued that the pursuit of knowledge leads to liberation for all not erasing or ignoring the historical record.
"Knowledge emboldens people and it frees them," Jackson said. "The work of our time is maintaining that hard-won freedom, and to do that we're going to need the truth, the whole truth about our past."