Florida Approves School Textbooks After Racial References Are Removed
Passages mentioning Black Lives Matter and George Floyd were taken out of the textbooks.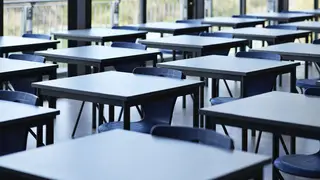 On Tuesday (May 9), the state department announced that 66 of the 101 books that were considered met the "state standards-aligned social studies curriculum for every grade level." Initially, only around 19 percent were approved "due to inaccurate material, errors and other information that was not aligned with Florida Law," according to the state department.
In order to meet the criteria, publishers had to make adjustments before gaining approval.
For example, New Calls for Social Justice, a middle school textbook, details the founding of the Black Lives Matter movement in 2013 and the murder of George Floyd in 2020 were mentioned. The department stated those passages were removed. Additionally, athletes such as former NFL quarterback Colin Kaepernick who kneeled during the national anthem in protest of police brutality were also removed from an elementary school textbook.
Stephana Farrell, the director of research and insight at Florida Freedom to Read Project spoke about how the state's work has the potential to reverberate throughout the country in the world of public education
"Florida has five of the top 10 school districts in the country," Farrell said. "This is the chilling effect at work."
Public school education activists along with some school board members have been highly critical of the process and accused the state of trying to whitewash history.
"There's so many emotions, but I guess immediately it's fear," Hillsborough School Board member Jessica Vaughn said. "I'm afraid of the pattern of erasing or trying to rewrite history because to me this is right out of the playbook of fascism."
Gov. Ron DeSantis forcefully criticized the College Board, which recommended the African American class saying that themes such as intersectionality and Black LGBTQ theory are "not us" CBS News reported.
He went on to describe the study of the history of systematic racism as "indoctrination that runs afoul of our standards."