Here's How Kim Janey Could Become Boston's First Black Woman Mayor
If current Mayor Marty Walsh is confirmed as the new Labor Secretary, Janey is poised to fill his seat.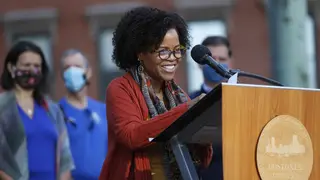 Boston City Council's President Kim Janey is poised to make history in the city she loves. Current mayor Marty Walsh was formally announced this week as President-elect Joe Biden's nominee for Secretary of Labor. If he is confirmed, Janey is slated to fill his role and will become the first Black woman mayor in the city's history.
Janey congratulated Walsh on Thursday (January 7) regarding his nomination.
"I want to start by congratulating @marty_walsh on his nomination for U.S. Secretary of Labor," the 56-year-old tweeted. "His deep love for the City, and his dedication to working people and good jobs, have left a remarkable impact, and his legacy will show that dedication."
Janey also acknowledged the new position she'd take on due to Walsh's nomination.
"Should he be confirmed, I'm ready to take the reins and lead our city through these difficult times," she followed up in another tweet. "I look forward to working w/ the Walsh administration and my colleagues on the Council to ensure a smooth transition, as we address the unprecedented challenges facing our city."
The Boston Globe reports that Janey would serve as acting mayor until the next election if and when Walsh officially vacates the role. If he leaves after March 5, Janey would become mayor until the November general election. If he leaves before that date, city council could call a special election before November.
Janey is a longtime advocate for children and social justice. She served as council president since 2019 after being elected to the body two years earlier on a platform of bringing equity and wealth to the city.
According to Boston's official website, Janey served as a senior project director at the Massachusetts Advocates for Children where she advocated for "systemic policy reforms that would ensure equity and excellence in education for students in Boston Public Schools."
If she takes on the role, she will have to find solutions for the city's COVID-19 response, allegations of police abuse, and the economic slowdown that has ravaged the city amongst others.