A Come-Up Story: That Girl Lay Lay Makes Her Mark On Hip-Hop
That Girl Lay Lay is taking off! The young freestyler is breaking into hip-hop and making waves; already into the release of her debut album and off the brink of Hip Hop Awards, she's clearly the image of new age hip-hop!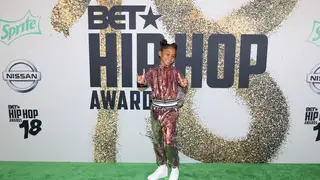 Eleven-year-old Alaya High, best known by her artist name, That Girl Lay Lay, is a rapper on the rise. Hailing from Houston, Lay Lay has fully jump-started her career at an early age simply by posting a fun video of her freestyling over BlocBoy JB's track "Shoot." That video turned Lay Lay into a viral sensation, propelling her into the spotlight and snagging her a deal with Empire and features on Ellen, The Frank Ski Morning Show and other outlets. 
Recently, Lay Lay has dropped her debut album, Cheat Code, and is really beginning to make waves in her hip-hop career. Check out Lay Lay's interview below.


Describe the moment when you realized that you wanted to pursue rapping seriously.


That Girl Lay Lay: Ever since I could talk I have wanted to do some type of performing, but after seeing my dad do it, I grew a passion for it instantly.


Who inspired you to fall in love with hip-hop music?


That Girl Lay Lay: My father, [because] he's amazing at rapping.


How did it feel when you found out your freestyle video went viral?


That Girl Lay Lay: I just couldn't believe that I was one who went viral, LOL. I just kept looking at the page over and over with excitement every time. 


Talk to us about how you got signed.


That Girl Lay Lay: All the labels started hitting me in my DM's, there's not one that we didn't talk to, Empire included, and they felt the best. They felt like home.


What's the biggest influence behind your lyrics when you go into the studio?


That Girl Lay Lay: I like to talk about things that I actually do, I find it fun to be able to rap without cursing and still get your point across. 


If you could collaborate with any other female artist, who would you choose and why?


That Girl Lay Lay: Cardi B, because she's funny and so down to earth. I love her humble spirit.


How do you balance going to school, having a social life and being an artist?


That Girl Lay Lay: I'm home schooled, and my dad has put together a great team to help me balance everything and still be a kid.


Describe your first experience performing on stage?


That Girl Lay Lay: I was nervous actually, and I never am, but after I finished and got a great response it was all worth it.


What advice would you give other young girls your age who may want to pursue music, but feel like they don't know where to start?


That Girl Lay Lay: I would tell them don't follow after a trend, create your own, it's better when you follow your heart and stay original.