Selma Director Says Hollywood's Not Lining Up for Black Protagonists
Ava DuVernay on the highs and lows of making Selma.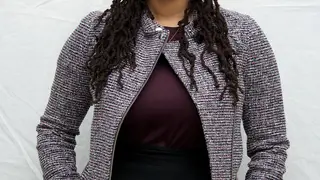 Moviegoers around the nation – both Black and white – may still be scratching their heads over the stunning omission of Selma from Best Actor and other key Academy Award categories, but Ava DuVernay, who directed the film, has moved on. The Oscars, she explained in a poignant keynote speech delivered at SXSW on Saturday, does not define her work.
"It's not anything but a big room with very nice people dressed up. It's very cool. But my work's worth is not about what happens in, around or for that room," she said, according to reports from Variety.
People of color who have stories to tell, she advised, should not wait for Hollywood to come calling to make their voices heard. If she'd done that, Selma, which did receive a Best Picture nomination, might never have been made.
When asked by an audience member why it took so long to tell the story of Dr. Martin Luther King, DuVernay's answer was frank.
"The studios aren't lining up to make films about Black protagonists," she said. "Black people being autonomous and independent."
DuVernay also shared some of the highs and lows of her experience making the film, from start to finish. She was, for example, Paramount's seventh choice to direct the film. There were problems with getting the rights to King's speeches. And DuVernay admits to vomiting and crying the night Selma premiered at the AFI Fest last November. 
When the movie debuted in theaters on Christmas Day, DuVernay and the film's star, David Oyelowo, went on a reconnaissance mission to five theaters in Los Angeles to gauge viewers' reactions.
"That brought me more joy than I think I experienced on everything that happened," she said. DuVernay went on to say that screening the film at the White House and staying for dinner with President Obama and the First Lady was a definite close second.
"I've had the f***ing most awesome year," DuVernay said. "I can't even describe it."
BET.com is your No. 1 source for Black celebrity news, photos, exclusive videos and all the latest in the world of hip hop and R&B music.
(Photo: Vera Anderson/WireImage)