Ava DuVernay Claps Back at Quentin Tarantino in the Classiest Way
The Hateful Eight filmmaker shaded her over Selma.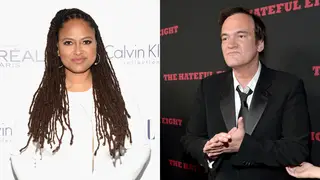 Who can forget the time Quentin Tarantino dissed Ava DuVernay in print by calling her Oscar-nominated film Selma, essentially, a TV movie. Speaking Bret Easton Ellis for the New York Times T Magazine, the Hateful Eight filmmaker said of DuVernay's Martin Luther King Jr. biopic, "She did a really good job on Selma but Selma deserved an Emmy," he said.
The statement was a lesson in shade, and it had Black Twitter, feminists and lots of other people up in arms at the thought of two white men cutting down the work of the most prominent female filmmakers of color in the business. 
Well, you may have been shocked by Tarantino's comments, but Ava wasn't. "I was surprised by how surprised everyone was. When you look at his work and his persona, there's nothing surprising about what he said," DuVernay explains to the Hollywood Reporter, breaking her silence on the diss for the first time. "But it didn't bother me like so many assumed it would."
Whomp! Don't shade Ava, 'cause she'll shade you right back. Allow us to anger-translate what DuVernay is basically saying: Tarantino is a pompous jerk who makes misogynistic films and oozes white privilege. We would love to know what she thinks about his commitment to the Black Lives Matter movement. In better news, J.J. Abrams sees the brilliance of Ava and recently said he would love to see her direct a Star Wars flick. Referring to Selma, Abrams gushed, "If she can do that story, that well, there's no question she'd kill this movie [Star Wars]." Well said, J.J.!
Speaking of shade, it's that time of year again! The second annual Shade Awards just dropped, and there's tea everywhere. Watch below!
(Photos from left: Michael Kovac/Getty Images for ELLE, Charley Gallay/Getty Images for The Weinstein Co)