Stevie Wonder Has a Message for Fans Who Don't Approve of His Support of #BlackLivesMatter
The music legend couldn't be more direct.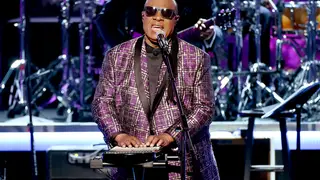 Stevie Wonder has never been one to hold his tongue in regards to political issues, especially when they directly affect the Black community. He showcased this during a recent performance at London's British Summer Time Festival where he told 65,000 attendees that he doesn't "give a f**k" if they don't agree with his support of the #BlackLivesMatter movement.
While narrating through cuts from his iconic 1976 album Songs in the Key of Life, Stevie pointed out that the subject of society's problems he sang about back then still exist today.
"The songs and the words that we talk about, those conditions still exist in the world and that hurts my heart," he said.
From there, as they say, he "went off," making his stance clear that he is all for the protection and preservation of Black lives.
"Yes, all life does matter... But the reason that I say Black lives matter is because we are the original people of this world," he said. "So, in essence, everybody in here, really, you got some Black in you. You've all got some soul in you, so stop denying your culture."
Following his remarks, there was some scattered applause in the crowd, which was seemingly in shock by his words. After noticing that some members of the audience didn't fancy his words, he made things even clearer.
"And for those of you who don't agree with me, I love you but I don't give a f**k," he said. "Cut the bulls**t and fix it! We were all made in God's image. When you hate someone, you're hating that image. If I'm blind and I can see it, you can see it too."
Stevie preaching the gospel! Take a look at the video footage, here.
Watch Facebook CEO Mark Zuckerberg explain why Black Lives Matter in the BET Breaks video, above.