100,000 People Are Opposing Mike Vick's Hall Of Fame Nomination
The former quarterback recently made controversial comments about Colin Kaepernick's hair style as well.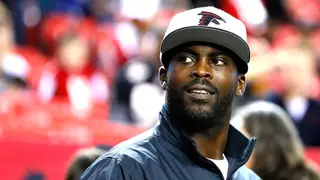 There are a bunch of people still not forgiving Michael Vick for his dogfighting past.
The former Falcons/Eagles quarterback is slated to be inducted into Virginia Tech's football hall of fame and 100,000 detractors don't want to see him honored.
According to the Roanoke Times, two online petitions at change.org accumulated 100,000 signatures against his recently announced induction. His alma mater's HOF induction ceremony is slated for September 22.
Vick is a large part of the reason Va Tech became relevant in football and generated millions of dollars for the school's program.
Michael Vick was convicted of dogfighting just a few years into his professional career and spent 19 months in federal prison. Virginia Tech defended the pronouncement by releasing a statement.
"Mr. Vick's induction into the university's sports Hall of Fame acknowledges his tremendous achievements as a student athlete — who some will say was the greatest in the history of the university," it reads. "We understand that there are those who do not and will never agree with this decision." The university also noted that Vick's also done a lot to "advance animal welfare issues."