OP-ED: Racist Massacre In New York Reminds Us Much More Is Needed On Racial Equity
Billionaire Robert F. Smith hopes to dismantle injustice by tackling social disparities.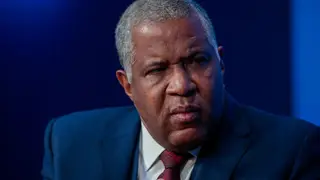 Less than two weeks before the second anniversary of the killing of George Floyd by a Minneapolis police officer, the specter of racial hatred and violence once again reared its ugly head when a teenage gunman – entranced by a white supremacist ideology known as replacement theory – systematically murdered 10 people at a grocery store in a predominantly Black neighborhood in Buffalo, N.Y. Then, just last week, in Akron, Ohio, another tragedy: a young, unarmed black man died in a hail of bullets, fired by police after a routine traffic stop. The shooting, which involved eight police officers, has sparked protests and a state-of-emergency declaration by the mayor of Akron, who instituted a city-wide curfew.
Floyd's murder, the racist massacre in Buffalo, and this latest police killing in Akron are reminders that we are living through one of the most turbulent periods in American history since the civil rights movement of the 1960s. Yet, for all the protests and calls for racial equity, the demands to stop white supremacists, and the promises from lawmakers to advance justice and equality, much more work is needed to extinguish the flames of racism that have engulfed our nation since its birth.
Instead of public denunciations of racial hatred and promises of change, Black Americans need concrete actions today that show that their lives matter and that measurable commitments toward their safety and well-being are finally being acted on.
From Minneapolis and Buffalo to Atlanta and Ferguson, many Black communities are not discernibly better off, despite the outpourings of support after violent tragedies. There are many reasons for this disconnect, ranging from political dysfunction to shifting cultural zeitgeist, and often a lack of communication and trust between those who have resources to help, and those who need it. This is why my firm Vista Equity Partners joined with PayPal and Boston Consulting Group last year to form the Southern Communities Initiative (SCI), a consortium of local organizations in communities of color in the South, where almost  60 percent of all Black Americans live, that aims to make it easier for corporations and philanthropists to deploy resources quickly, effectively, and transparently, to drive growth and opportunity for all Americans.
As MLK Jr reminded us, in order to dismantle racial hatred and injustices like we saw in Buffalo, we must also dismantle economic, educational, technological, and other injustices that have been heaped on the Black community. Famed musician and poet Gil Scott-Heron said, "Color is not the issue in America, class is."
In just over a year since its launch, SCI has already made significant progress in helping channel the $100 billion in racial equity commitments companies and philanthropic organizations made following the death of George Floyd. We've partnered with Education SuperHighway to pilot Bridge to Broadband and assess the block-level broadband needs and solutions in Birmingham, Charlotte, and NOLA that impact 3 million households. A $500 million economic opportunity fund was started to support Black and underrepresented minority businesses through Community Financial Development Institutions (CDFI) and Minority Business Enterprises (MBE), minority-led VC funds, and supplier diversity efforts. And the SCI is working hand in hand with local community organizations to help them better access the $10 billion in federal funding available.
While these are just a few examples of what this collaborative effort has been able to accomplish in a single year, far more progress is required. It will take a much greater effort on the part of all of society to quiet deeply entrenched acrimony and violence that led to the brutality we witnessed in Minneapolis, Buffalo, and Akron. Business leaders have enormous power to drive this change.
For example, the Student Freedom Initiative – a nonprofit centered around removing the burdens of student loan debt at Historically Black Colleges and Universities (HBCUs) – needs funding help to ensure that tomorrow's Black leaders pick up the mantle and continue the fight for equality. Corporations can also pledge to commit to supplier diversity by increasing MBE spending or helping to fund low-cost, high-speed internet to communities of color and expand healthcare coverage. In Texas – the country's second most populous state – alone there are more than nine million people who lack a reliable high-speed connection and more than 21 percent of Black residents in Houston lack even the most basic form of health insurance coverage.
Fulfilling all these goals will not stop a white supremacist from wantonly killing innocent people or prevent a police officer from choking or shooting a man to death. But by working together with urgency, corporations can help level the field for African Americans economically, educationally, and otherwise. Doing so will benefit our entire country. It may seem like a daunting task, but – to quote Gil Scott-Heron again – "nobody can do everything, but everybody can do something, everyone must play a part."