Who Is Robert F. Smith? Meet The Black Billionaire Who Paid Off Morehouse Grads' Student Loan Debt
The investor signed a pledge created by Bill Gates to donate half his wealth to philanthropy efforts.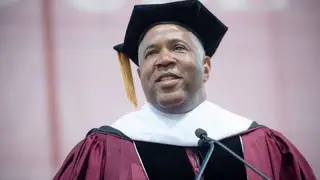 Smith's action quickly went viral and led to many people asking the question: who is Robert Smith?
Here's everything you need to know about the investor.
Early Life And Career

Smith was born to two educators with PhDs in Denver. After receiving an undergraduate degree at Cornell University, he started working as a chemical engineer for Goodyear and Kraft. Smith then went on to earn an MBA from Columbia University's business school, reported CNN Business.

From 1994- 2000 he worked for Goldman Sachs in their technology investing sector, where he oversaw $50 billion worth of merger deals and acquisitions for companies such as Apple, Microsoft, Texas Instruments, eBay and Yahoo.

Then in 2000, Smith founded Vista Equity Partners, a private equity and venture capital firm focused on buying and selling technology and software companies.

Making His Billions

By the age of 35, Smith had already made his first million, and before he was 55, he became a billionaire, according to a profile by the Washington Post.

According to Forbes, Vista Equity is one of the best-performing private equity firms, with $46 billion in capital committed to companies specializing in data.

Philanthropy And Charitable Donations

Although Sunday may have been the first time many people learned about Smith's generous contributions, he's no stranger to paying it forward.

Before the Morehouse commencement, Smith donated $1.5 million to Morehouse College for scholarships and the development of a new park.

In 2016, he pledged $50 million to Cornell University to support its chemical and biomolecular engineering school, as well as scholarships for Black and female engineering students.

In 2017, he became the first and only Black person to sign the Giving Pledge, an initiative created by billionaires Warren Buffett and Bill and Melinda Gates. The Giving Pledge challenges the wealthiest people in the country to give away at least half of their money to charity.

"I will never forget that my path was paved by my parents, grandparents, and generations of African-Americans whose names I will never know," Smith wrote in an essay for the Giving Pledge. "Their struggles, their courage, and their progress allowed me to strive and achieve. My story would only be possible in America, and it is incumbent on all of us to pay this inheritance forward."

As one of the founding donors of the National Museum of African American History and Culture, he committed $20 million to the museum before it opened.

Smith is also the founder and president of the Fund II Foundation, which provides grants for causes such as human rights, the environment, music education and "preserving the African American experience."

Personal Life

In 2015, Smith married model Hope Dworaczyk on Italy's Amalfi Coast. Artists John Legend, Seal and Brian McKnight performed during the extravagant ceremony.

Dworaczyk and Smith have two children together, while Smith has three other children from a previous marriage.