Pusha T Reignites Capo Beef With New Song at Louis Vuitton Show
The Clipse track is allegedly directed at Jim Jones.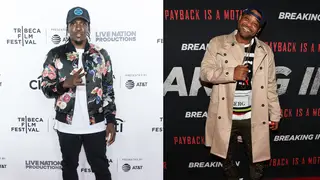 Pusha T in Paris came in hot!
In lieu of last night's Louis Vuitton fashion show, where record producer and singer-songwriter Pharell Williams debuted his collection as men's creative director, rapper duo Clipse shared their first collaboration in 14 years.
Pusha T and brother No Malice, who make up Clipse, walked the runway in last night's show as their new track played. A-list stars like Jay-Z and Beyoncé were seen boppin' to the beat in the crowd.
The song seemed like a diss against rapper and music executive Jim "Capo" Jones, who the duo has been beefing with since earlier this year. The feud allegedly began after Jones questioned Pusha T's position at No. 29 on Billboard's "Top 50 Greatest Rapper of All Time" list in April, according to HipHopDX.
Jones is quoted saying, "What has he done that puts him in the greatest rappers of all time besides talk about coke that he probably didn't get himself?" on the RapCaviar podcast. "Nobody wants to be like Pusha T," he later said.
"Beware of my name, that there's delegate/ You know I know where you're delicate/ Crush you to pieces, I'll hum a breath of it…I'm watching your fame escape relevance/ We all in a room but here's the elephant/ You chasing a feature out of your element," Pusha rapped, allegedly accusing Jones of kissing up to rival rapper Drake in order to get a guest verse, according to HipHopDX.
"And those lab diamonds under inspection/ The question marks block your blessings/ It's no tombstones in the desert/ I know by now you get the message," he concluded. This was the duo's first track together since distancing for solo careers in 2009.
Jones, however, was quick to clap back on Instagram, captioning a video of him laughing, "Let me know if they serious cause my name is my name #Capo" referring to Pusha T's My Name is My Name album.