Tia Mowry Reflects on Dating Experiences Since Divorce
The actress has kept fans looping in via her hilarious TikTok channel.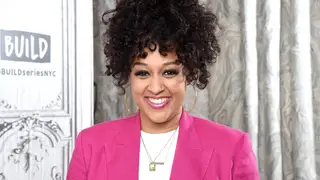 If the dating scene seems to be a little awkward, take heart that you're not the only one having a tough time.
Actress Tia Mowry has been sharing some of her experiences with dating after her divorce from Cory Hardrict earlier this year. The 45-year-old star has been using her TikTok channel to share humorous updates. In a recent one, Mowry wrote, "ghosting, and love bombing, and emotional unavailability, OH MY. kidding, but not kidding."
In the post, Mowry wrote, "When anyone asks me about my dating life," she also lipsynchs to the viral sound, "It got worse. But I feel like it's about to get worser. It got worser!"
In the comments, fans commiserated with the star, with one writing, "Not me having something in common with THE Tia Mowry, I'm trying so hard not to give up but months of this back to back I'm so over it."
In an interview with HelloBeautiful earlier this year, Mowry said that therapy helped drive her decision to end her marriage. "I asked myself, 'Tia, are you happy?' And I said, I truly need to find my peace and my happiness. That's when I went to therapy," she says. "I just started to begin to blossom, evolve, learn and grow. That was like the aha moment. The pivotal moment where I was like, you know what? It's time to really start living your truth."
Mowry announced that she and Hardrict were divorcing in October 2022 after 14 years of marriage. The couple shares two children.
She had previously mentioned how her children factored into the decision to separate. "[They can say] my mommy is living and chasing her truth. I want my children to do that. That's the best gift I can give them," she said. "I want for them not to live a life that I want them to live, for them not to live a life that everybody else wants them to live or what they think that they should be or live."