Lela Rochon Breaks Her Silence After Husband Antoine Fuqua's Cheating Scandal
The director was seen kissing Nicole Murphy on a trip to Italy.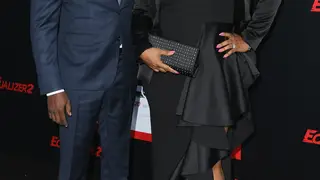 Director Antoine Fuqua made headlines in July after he was spotted kissing Nicole Murphy while on vacation in Italy. Once the photos of the intimate moment went viral, Fuqua's wife, Lela Rochon, went on a social media hiatus amid reports that she was embarrassed by what transpired. Now she's back and seems better than ever.
The Waiting to Exhale actress returned to Instagram on Monday posting a photo of herself with her wedding ring firmly intact.
"God is good," she captioned the post.
She was met with lots of love from her celebrity friends and peers in the comments including the likes of Lena Waithe, Tina Lawson, Vanessa Bell Calloway and Tasha Smith.
Rochon and Fuqua celebrated their 20th wedding anniversary in April.
As previously reported, Murphy initially said she and Fuqua's kiss was just a friendly greeting, and later apologized.
"I want to apologize to my family, and to Lela and the Fuqua family for what transpired," she said in a statement. "It was not my intention to be in this situation. I do not condone women kissing or interacting in anyway inappropriately with a married man."
Neither Fuqua nor Rochon has spoken out publicly about the scandal.