8 Best Sunscreens For Melanated Skin That Won't Leave A Chalky Appearance
These lightweight SPFs provide protection against the sun's damaging rays.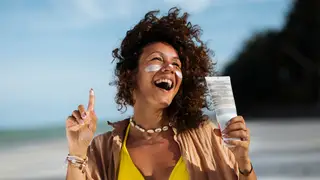 Now that the days are longer and warmer, many of us will be hitting the beach, the pool, or just hanging outside more. And while that may feel good and offer the opportunity to absorb some vitamin D, it also increases your exposure to UVA and UVB rays which can increase your risk of skin cancer and prematurely age your skin.
Furthermore, while your melanated skin offers some protection from the sun's damaging rays, People of Color tend to die at higher rates from skin cancer. So the next time you hit the great outdoors, remember to apply sunscreen.
However, a common complaint about using SPF is that it can leave behind a white cast. So, we've put together a guide for choosing between a chemical and a mineral (aka physical) sunscreen and also ones that melt into your skin without leaving behind a chalky appearance.
Chemical vs. Mineral Sunscreens
"Chemical and mineral sunscreens are safe to use, and neither is superior to the other," says Caroline Robinson MD, FAAD, CEO and founder ToneDermatology. Chemical sunscreens (active ingredients include: oxybenzone, avobenzone, octisalate, octocrylene, homosalate, and octinoxate) absorb UV rays to limit damage to the skin.
Mineral sunscreens (active ingredients: zinc oxide and titanium dioxide) sit on the skin and prevent the UV rays from penetrating your skin. "However, for those with sensitive skin, acne, or who tend to get "rashes" when using sunscreens, I usually recommend mineral sunscreens which most people better tolerate," she says.
8 sunscreens worth trying:
Eleven Unrivaled Sun Serum SPF 35: Founded by Venus Williams, this sunscreen does double duty offering hydration and sun protection. It melts into the skin without leaving behind a chalky effect. It is a mineral sunscreen that uses reef-safe zinc oxide as its active ingredient.
Black Girl Sunscreen SPF 30: The brand tagline touts "sunscreen made by women of color for people of color because we get sunburned too". And this much-loved mineral-based product is fragrance-free with hydrating ingredients such as avocado and jojoba.
Avya Hydroveda Sheer Tinted Moisturizer SPF 40: Featuring moisturizing and wrinkle minimizing ingredients such as hyaluronic acid and squalene, this tinted mineral based sunscreen leaves behind a healthy glow. Wear it alone or as a base for your makeup.
Goop! Unseen Sunscreen SPF 40: this may well be one of the lightest feeling sunscreens ever. It glides on easily and disappears instantly. It is oil-free, and its active ingredients are avobenzone, homosalate, octisalate and octocrylene.
ISDIN Photo Eryfotona Actinica SPF 50+ sunscreen: Its ultralight formulation is designed to fight sun damage in two ways. It filters out UV rays and also helps repair sun damage you may already have. This 100% mineral sunscreen is also water resistant.
Unsun Mineral Tinted Sunscreen SPF 30: Offered in two shades (light/medium and medium/deep), this mineral-based sunscreen covers a range of skin tones, from light and those with freckles to olive and deep brown. Its formulation is said to minimize pores and moisturize the skin without leaving a pasty residue, and it can be worn alone or as a primer under your makeup.