'Love And Hip Hop Atlanta' Star Tommie Lee's Child Abuse Charge Starts Debate On Social Media
The reality star was charged with aggravated assault for allegedly shoving her daughter into a locker.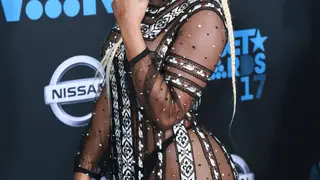 The indictment of "Love & Hip Hop: Atlanta" star Tommie Lee, who is facing multiple child abuse charges for allegedly shoving one of her children into a metal locker, has stirred several debates about parenting.
The description of the alleged October incident has several people slamming the reality star for inflicting violence on her child. However, many have come to Lee's defense by arguing that there's nothing wrong with physical punishment or an "old-fashioned whooping."
For many people in the community, there were frequent incidents in their childhood where they were disciplined with a spanking or something more severe. While these acts have often been downplayed as common parenting practices, there has been a shift in attitudes toward physical punishment. 
After the charges were announced, Lee took to Instagram and slammed other mothers who don't play an active role in their children's lives. Many viewed this as a way for her to defend the indictment. 
Lee's Instagram story was shared by The Shade Room, where people in the comment section sounded off. 
"You're mad at everyone else because you slammed YOUR child into a locker? Whew chile," wrote @carzziejordan.
"Again there is a difference between punishment and child abuse! She needs to learn that. Loving your child does not excuse child abuse dummy," commented @kaseylove03.
"So we're suppose to disregard abuse because of some PTA's & meeting the teacher? My parents didn't go to mine but at least I know I'm safe," wrote @mirajuanaaaa.
There were, of course, many people who defended Lee.
"Did she physically abuse the child, or did she discipline her, hell a lot of y'all kids need, they azz whipped because they bad and disrespectful as hell!" wrote @thatchicksince86.