NYC Mayor Eric Adams Responds To Viral Video of Officer Shoving Woman To Ground During Arrest
Activists and Harlem residents demand accountability, but others believe the officer's actions appear justified.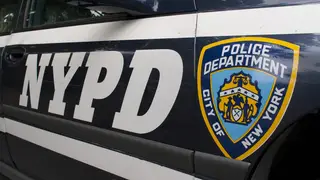 A video has made its way around the internet showing a New York City police officer shoving  a woman to the ground on Tuesday (Aug. 30) afternoon while trying to make an arrest in Harlem. Now that the video has gone viral, the NYPD has released body camera video from the officer's perspective, prompting questions as to whether or not the officer was provoked and if his action was justified.
The footage shows NYPD officers surrounding a male suspect on a sidewalk in a chaotic scene. A woman identified as Bronx resident Tamani Crum, 19, approached the officers and seemingly to confront the cops, apparently slapping one of them. That officer, now identified as Detective Kendo Kinsey, responded by striking Crum, knocking her to the pavement. Kinsey along with other officers gathered Crum from the ground and placed her in custody.
Editor's Note: The video below may be disturbing to watch.
"He cold knocked her out. He's no better than the people who is [sic] knocking people out in the street," Crum's grandmother told CBS New York.
Crum's mother said her daughter suffered injuries.
"It's bad. Her back, she's very sore. She's hurting. And her head, she has a big knot in her head," she stated.
The family's lawyer, Jaime Santana Jr., noted that the officer who knocked Crum to the ground is "three times" her size, calling the cop's response an "unnecessary" use of excessive force.
Local residents and activists echoed Santana's comments.
"There must be accountability for the bad policing that we saw yesterday," Ashley Sharpton of the National Action Network said at a news conference Wednesday with Crum's family, according to The New York Times.
Citing a criminal complaint, CBS New York reports that Detective Kinsey told Crum to leave the area as they made the arrest. She allegedly slapped Kinsey's arm away when he tried to grab it. The officer then pushed her, and she fell backwards. An NYPD source told the station that Kinsey's actions appear justified, but an investigation is underway.
The body cam video of the incident (seen below), shows what happened from a different angle.
According to the Times, the officers were attempting to arrest Crum's boyfriend, Elvin James, 22, on an attempted murder charge. The police allege that James had a loaded gun when they arrested him.
CBS New York reports that Crum pleaded not guilty Wednesday to obstructing governmental administration. Santana said the prosecutor decided not to charge her with assaulting an officer or resisting arrest.
Kinsey, 46, is now under investigation by the NYPD, the Manhattan district attorney's office and the Civilian Complaint Review Board.
Despite the public outcry, Mayor Eric Adams, a former NYPD lieutenant,, defended Kinsey when asked about the incident. "The young lady came, smacked a police officer. The police officer responded," said Adams, according to the Times. "They did what the system called for. They didn't turn off their body cameras. That's why we have footage of what happened."
Adams added: "I am not going to tell police officers to go out, apprehend dangerous people, then come later when they did what they were supposed to do and not say, 'You protected the people of this city.'"
Kinsey's personnel records show that he has received 12 commendations from the police department and was faulted for misconduct on three occasions, according to the Times. The Civilian Complaint Review Board investigated the 17-year NYPD veteran over six complaints between 2011 and 2018, including an alleged chokehold incident in 2014 that was not validated because investigators couldn't find the alleged victim.