Coco Jones' 'ICU' Earns No. 1 Hit On Billboard Charts
The song dethroned Drake and 21 Savage's "Spin Bout U."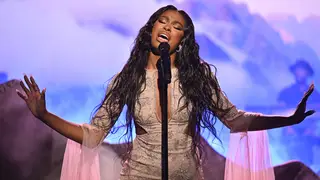 Coco Jones is celebrating after she secured her first No. 1 hit with her song "ICU."
The R&B star and actress from Bel Air took the number 1 position on Billboard's Mainstream R&B/Hip-Hop Airplay chart for the week of May 27, 2023. It dethroned Drake and 21 Savage's "Spin Bout U" and marks her first top spot on any Billboard chart. The track did however debut on the Hot 100 at No. 88 back in April, peaking in mid-May as it reached No. 63.
Jones has performed "ICU" at the 2022 BET Soul Train Awards, as well as on The Jennifer Hudson Show, The Tonight Show Starring Jimmy Fallon, and more. It debuted on her 2022 EP What I Didn't Tell You, which served as a vessel to share "all about the stories that happen off camera," she said in a statement at the time.
Listen to Coco Jones' "ICU" below.