Controversial YouTube Star Kevin Samuels Has Died, Mother Confirms News
Beverly Samuels-Burch says she learned of her son's death from social media.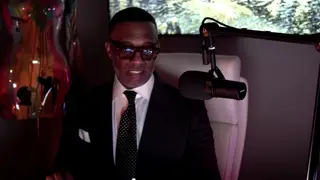 UPDATE: [MAY 6, 2022 AT 11:42 AM ET]
Beverly Samuels-Burch, the mother of YouTube star Kevin Samuels, has confirmed the death of her son. 
According to NBC News, Samuels-Burch said the learned about her son's passing from social media. She declined to release any details about the cause of death.  
"That was a terrible thing for social media to put that out. I didn't even know. I hadn't even been notified," she said. "All I'm doing is requesting that people pray for us."
On Thursday morning (May 5) the Atlanta Police Department said officers were called to an apartment on East Paces Ferry Road NE "regarding a person injured." First responders were performing CPR on an unresponsive man later identified as Samuels when officers arrived on the scene. 
A police report explains that a woman who was with Samuels said that he had complained about having chest pains and that she attempted to help him but he fell. The woman soon called 911. 
Samuels was taken to Piedmont Hospital, police confirm.
Controversial YouTube sensation Kevin Samuels has reportedly passed away.
News about the self-proclaimed relationship guru's death began to bubble on Twitter and social media on Thursday (May 5), according to REVOLT.
Samuels, who was known for his contentious takes on dating by way of his YouTube channel, also operated under the title of an "image consultant." He most recently set the internet ablaze after his comments about single women who are 35 years old and over are who he considers to be "leftover women."
Always ready to speak his mind about hot topics surrounding relationships, Samuels was twice divorced and had critics and supporters who expressed their opinions about his ideologies.
In February, rapper Future sat down with Samuels with a teaser trailer for his single "Worst Days."
"Last year, how much would you say you spent on women," Samuels asks Future in the trailer. To which Future responded, "Probably I'd say around two, three…three million. Every time I see a beautiful woman, I have to splurge. I have to spoil 'em."
Additional details surrounding his cause of death have yet to be revealed, and Samuels' family hasn't released an official statement to confirm the news.
---