Get A First Look at the Nas-Directed Trailer for the Docuseries 'Supreme Team'
LL Cool J, Ashanti, and NYC Mayor Eric Adams make contributions to the limited series.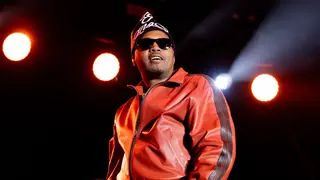 Nas is putting down the pen and picking up the lens as the first trailer to his co-directed documentary, Supreme Team, dropped on Wednesday (June 15th).
The three-part limited docuseries takes an in-depth look at the notorious Queens, New York gang, and tells the real story from the mouths of its two leaders and family members, Kenneth "Supreme" McGriff and Gerald "Prince'' Miller.
The Queensbridge native himself is directing the docuseries alongside Peter J. Scalettar and will also feature contributions from Ashanti, LL Cool J, MSNBC's Joy Reid, and NYC Mayor Eric Adams.
The docuseries will be available for streaming on July 8th but will premiere this Sunday (June 19th) at the Tribeca Film Festival with tickets still available for purchase.