Organization Builds Black Business Ecosystem While Breaking Systemic Barriers To Black Prosperity
Meet Kelly Burton, the energy and driving force behind Black Innovation Alliance, which is pushing for wins for Black entrepreneurs in the tech space.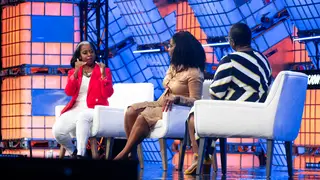 In early November, more than 70,000 people from the global tech industry gathered for the annual Web Summit in Lisbon, Portugal, a tech conference that drew leaders in the field from all corners.
Kelly Burton, the co-founder and CEO of Black Innovation Alliance, brought a large delegation from the United States to network toward BIA's efforts to build a sustainable ecosystem for Black entrepreneurs.
At the summit, Burton took the stage to lead or participate in multiple tech talks and conversations about Black wealth creation, the lack of diversity and inclusion in tech, and the systemic racial bias Black entrepreneurs face.
"It was a magical experience," Burton told BET.com about the four-day summit which was attended by 60 Black business and innovation leaders with BIA.
"We heard from the Web Summit team that our activation made history as the first to focus on Black entrepreneurship at the Web Summit, which is arguably the largest tech conference in the world. So it was a big win for our community and our work,"she added.
Burton, the driving force behind BIA, knows first-hand about the disparities that prevent Black entrepreneurs from thriving.
She is a veteran entrepreneur who has experienced the highs and lows of business success and failure. But even with Burton's successes, systemic racism limited her growth potential.
"That has been the challenge my entire career: People knew my work was excellent, but when it came to securing that seven-figure contract to build my business, people would say, 'oh, your capacity is low. Oh, well, you don't already have all these things that are necessary for us to really have faith in you to do X, Y and Z. So, we're not going to give you a shot,'" Burton told BET.com.
That experience led Burton, a Clark Atlanta University alumna, to co-found BIA in 2020. Today, BIA comprises more than 85 member organizations that provide resources, guidance and financial support to more than 300,000 innovators of color, tech founders and innovative technologists.
"The companies we support run the whole gamut," Burton explained, "so everything from tech startups to brand new small businesses, all the way up to more established firms and ones that have actually pulled down venture capital. Our priority is that, number one, the organization be Black led and prioritize innovation."
BIA's mission isn't limited to helping businesses turn a profit. The alliance is working toward meaningful systemic change through four pillars: capacity building, narrative change about what Black innovation looks like, research toward building an effective business ecosystem, and advocacy.
The alliance's advocacy was instrumental toward creating the new Congressional Caucus on Black Innovation, Congresswoman Stacey E. Plaskett, a U.S. Virgin Islands delegate and CBI co-chair, said in her announcement of the initiative.
"There is an incredible amount of talented Black founders, creatives, and innovators, yet the cross-sector trends and research show that even in the world of creative technology, bias is preventing Black innovators from equitable footing, competition, and autonomy," Plaskett stated.

Indeed, U.S. Treasury Secretary Janet Yellen has highlighted the systemic inequalities that continue to keep Black Americans at the economic periphery.
Speaking at an event in January honoring Dr. Martin Luther King Jr.,Yellen said, "From Reconstruction, to Jim Crow, to the present day, our economy has never worked fairly for Black Americans -- or, really, for any American of color."
Prior to the creation of CBI, the organization did the challenging work of compiling hard numbers on the myriad groups that support Black innovators and entrepreneurs. 
That resulted in BIA launching its Black Innovation CensUs in 2021. It was one of the first attempts, ever, to collect data on things like the location of those organizations, their areas of specialization and how much funding they could provide to Black entrepreneurs.
"This research was critical in helping to communicate [to lawmakers] why legislation to support Black entrepreneurship and wealth-building over the long haul was, and is, as important as securing grants and other types of investments," Burton said.
A serial entrepreneur, Burton is a sought-after public speaker and writer who earned a doctorate in political science from Emory University. The New Jersey native's achievements, according to her, were unlikely given the challenging environment she faced before her family moved to the suburbs.
"When I was growing up in Camden, it  was literally like the murder capital of the country. And then you go to a place like Moorestown (N.J.), and you realize how fundamentally unfair it is," Burton said.
Her new high school, where students were expected to be college bound, had resources that were unimaginable in Camden's Black schools. Awoken by the disparities, Burton set out to become a change agent.
"I feel like I've always been a girl and then a woman in search of a cause," she said. "So that's been with me my entire career. …It's just always been a part of my identity."
After graduating from Clark Atlanta, Burton "went to graduate school to change the world." At first, she wanted to accomplish that with her political science training but eventually found her calling after the "entrepreneur bug" bit her.
She scrolled through her deep Rolodex of well-placed government and business contacts in Atlanta to launch Nexus Research Group in 2009, a consulting firm that helps organizations working toward social change. She was earning a six-figure salary but hit a ceiling when trying to land million-dollar contracts.
"I was like, oh, man, I've got this entrepreneurship thing figured out. Let me start this other business because I can't scale this consultancy," she recalled thinking.
But success eluded Burton's activewear line called Bodyology. Like many other Black-owned businesses, she lacked access to resources, including capital, vendors and supply chains. The company folded in three years.
That experience led Burton to create Founders of Color, a non-profit organization dedicated to helping minority businesses scale. But the same challenges as before hampered her progress.
"There's got to be a better way," Burton recalled a conversation with a friend working toward the same goals. "Let's see if we can bring other ecosystem builders together to create some sort of collective front around our work so that we can be a better service to entrepreneurs across the country."
That conversation led to BIA's conception. Over the past two years, BIA has gotten corporate buy-in of nearly $3 million in financial investments from the likes of eBay, Google and UBS.
Looking to the future, Burton has committed to funding and sustaining one million Black-led businesses over 10 years. It's part of the Decade of Black Innovation (DOBI) movement, a strategy that amplifies the importance of shaping a world where Black innovators thrive. It also underscores the urgency to secure the resources, funding and policies needed to achieve that vision.
DOBI  incorporates several components, including content and community-building campaigns to help Black people globally – from HBCU students to working moms and retirees – identify as future entrepreneurs, she said. The movement also encompasses educational opportunities and events like BIA's  BLADE Con conference.
"We are particularly bullish on the potential of the digital economy as an engine for Black wealth creation," Burton stated. BLADE Con and the supporting BLADE Blueprint research identified  eight potential digital economy growth areas: e-commerce, decentralized finance, creators, app development, gaming, professional services, publishing and media.
"Focusing on these areas is a key way to help Black people win – not only as individual business owners, but as a community," Burton said.