Treasury Secretary Janet Yellen Tells King Breakfast Attendees The Feds Must Work to Eliminate Systemic Inequalities
Yellen's Speech Discussed the Racial Wealth Gap and How the Biden Administration is Working on the Problem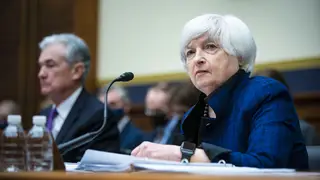 On the observance of what would have been the 93rd birthday of the Rev. Dr. Martin Luther King, Jr., the Secretary of the Treasury spoke at the Rev. Al Sharpton's National Action Network's annual breakfast honoring the legacy of the civil rights leader.
ABC News reported that Janet Yellen discussed the systemic inequities that continue to plague Black Americans and the U.S. economy as a whole.  Yellen spoke to what her department "needs to do to narrow the racial wealth divide" and spoke about King, noting that "economic injustice was bound up in the larger injustice he fought against."
The treasury lead plainly told attendees, "From Reconstruction, to Jim Crow, to the present day, our economy has never worked fairly for Black Americans -- or, really, for any American of color."
The legacy of American chattel slavery followed by decades of racist policies have led to lasting systemic economic issues that are still present today. A Brookings Institution report published last year found that the net worth of an average white family ($171,000) is nearly 10 times greater than that of a Black family ($17,150) in America.
More recent data from the Federal Reserve found that racial wealth gap to be slightly narrower, saying that the typical White family has eight times the wealth of the typical Black family and five times the wealth of the typical Hispanic family. The Fed dataset indicates that in 2019, the median wealth of a white family in the U.S. was $188,200 and the median wealth of a Black family was some $24,100.
It must be noted, the data used in both studies was compiled before the COVID-19 pandemic hit Black and Latino communities and, in many cases, widened the wealth gap.
Economist Darrick Hamilton is the Henry Cohen Professor of Economics and Urban Policy, and the founding director of the Institute for the Study of Race, Power and Political Economy at The New School.  He told BET that this public recognition by Yellen is a very important historic moment writing, "It is unprecedented and remarkable that the Secretary of the Treasury has recognized that there are persistent and ongoing economic harms delivered to a people based on something as cursory as their racial identity.  However, what should also be recognized is the government's culpability in these harms. The U.S. government has facilitated and been complicit in policies and actions that have exploited, extrapolated, devalued and denied economic access to Black people. What's necessary now is to identify and take steps to redress these harms, and promote a future of economic inclusion that is anti-racist in its design and implementation."
Since taking office last January, Yellen said that she and her team have worked hard to make certain that these disparities are addressed. Explaining that the Treasury has recently completed its first equity review and they have also hired the department's first-ever counselor on racial equity.
She added that the Treasury was injecting some $9 billion into Community Development Financial Institutions and Minority Depository Institutions that seek to serve people and places that the financial sector historically has ignored.
Sharon Parrott, president of the Center on Budget and Policy Priorities said this Administration seems as though its determination to name and address these race-based disparities is on the path to bringing about the type of economic change King fought for. "Deeply rooted racism and discrimination have driven starkly unequal opportunities and outcomes in education, employment, health, and housing and have fueled substantial racial income and wealth gaps." Parrott told BET, "Enacting the Build Back Better economic recovery legislation would bring meaningful progress in advancing racial equity -- narrowing racial and ethnic disparities in poverty, health coverage and access, housing, and education."
Even so, Yellen pointed out the reality that the work to be done is extensive.  She said, "Of course, no one program and no one administration can make good on the hopes and aspirations that Dr. King had for our country. There is still much more work Treasury needs to do to narrow the racial wealth divide."